Are you ready to take your marketing efforts to the next level? Look no further! In this guide, we will unveil 10 groundbreaking AI writing tools that will transform your content creation and amplify your marketing impact.
But first, what exactly is AI?
AI, or Artificial Intelligence, refers to the development of intelligent machines capable of performing tasks that typically require human intelligence. It's the driving force behind these innovative tools we're about to explore — the AI writing tools.
AI writing tools are the most widely used in the AI landscape. It's designed to streamline your content creation process, enhance your writing skills, and optimize your content.
In this article, we'll provide you valuable insights, features, limitations, how-to-use instructions, and pricing details to make the most of these 10 AI writing tools available today and help you discover the perfect ones to fuel your marketing success.
Get ready to unlock your marketing potential with these 10 AI writing tools!
1. ChatGPT
When it comes to AI writing tools, ChatGPT is a standout choice.
ChatGPT is an impressive language model created by OpenAI. It's been trained on tons of internet text, so it knows a lot of stuff! You can have conversations with it just like you would with a real person. Ask questions, get information, or even have a fun chat. It's like having a writing assistant who knows everything about everything! It is so easy to use and offers a variety of features.
Features of ChatGPT
ChatGPT provides a diverse collection of pre-trained models that generate AI prompts, stimulating creativity and helping to overcome your writer's block.
With its advanced algorithms, ChatGPT comprehends context and delivers coherent responses tailored to your queries.
Versatile Language Support
ChatGPT supports multiple languages and allows you to create content in your preferred language effortlessly.
Collaborating with ChatGPT, content creators can build upon AI-generated responses, fostering collaboration between human and AI writers for more engaging narratives.
Now, how does this all work? Let's explore how to use ChatGPT to our advantage.
How to use ChatGPT?
1. Login and Access ChatGPT:
Visit the ChatGPT website and log in to your account.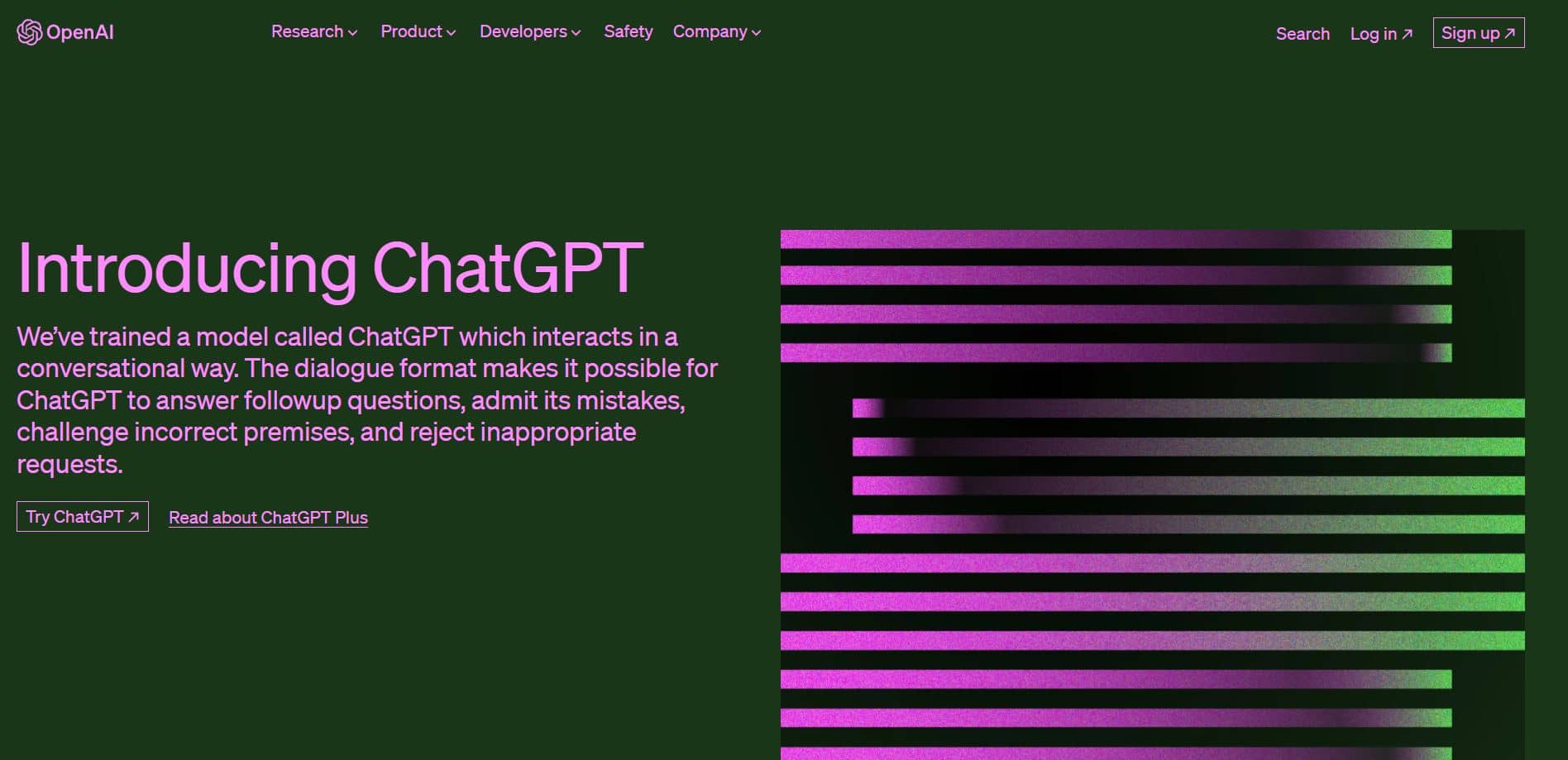 If you don't have an account, sign up and create a new one.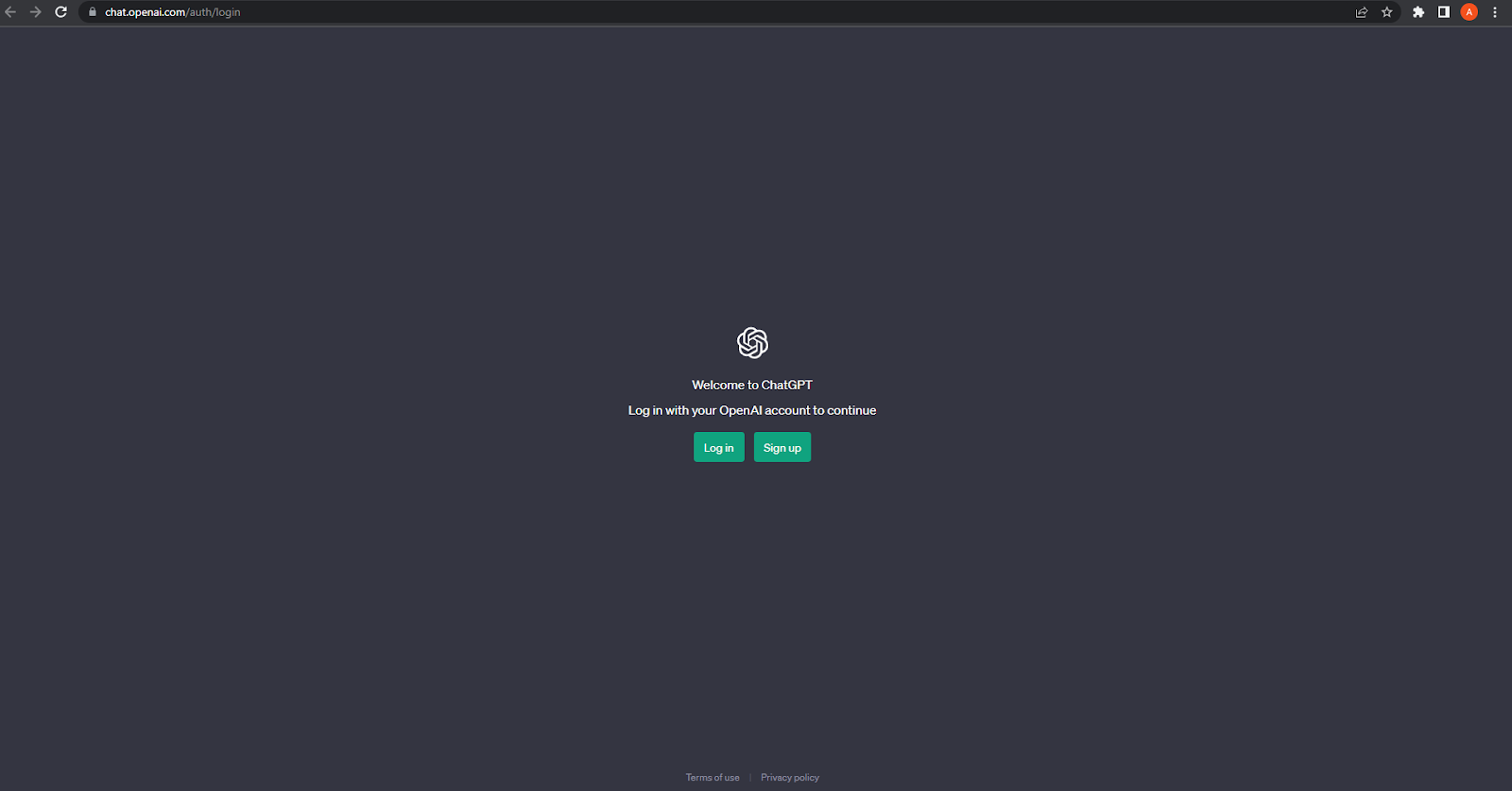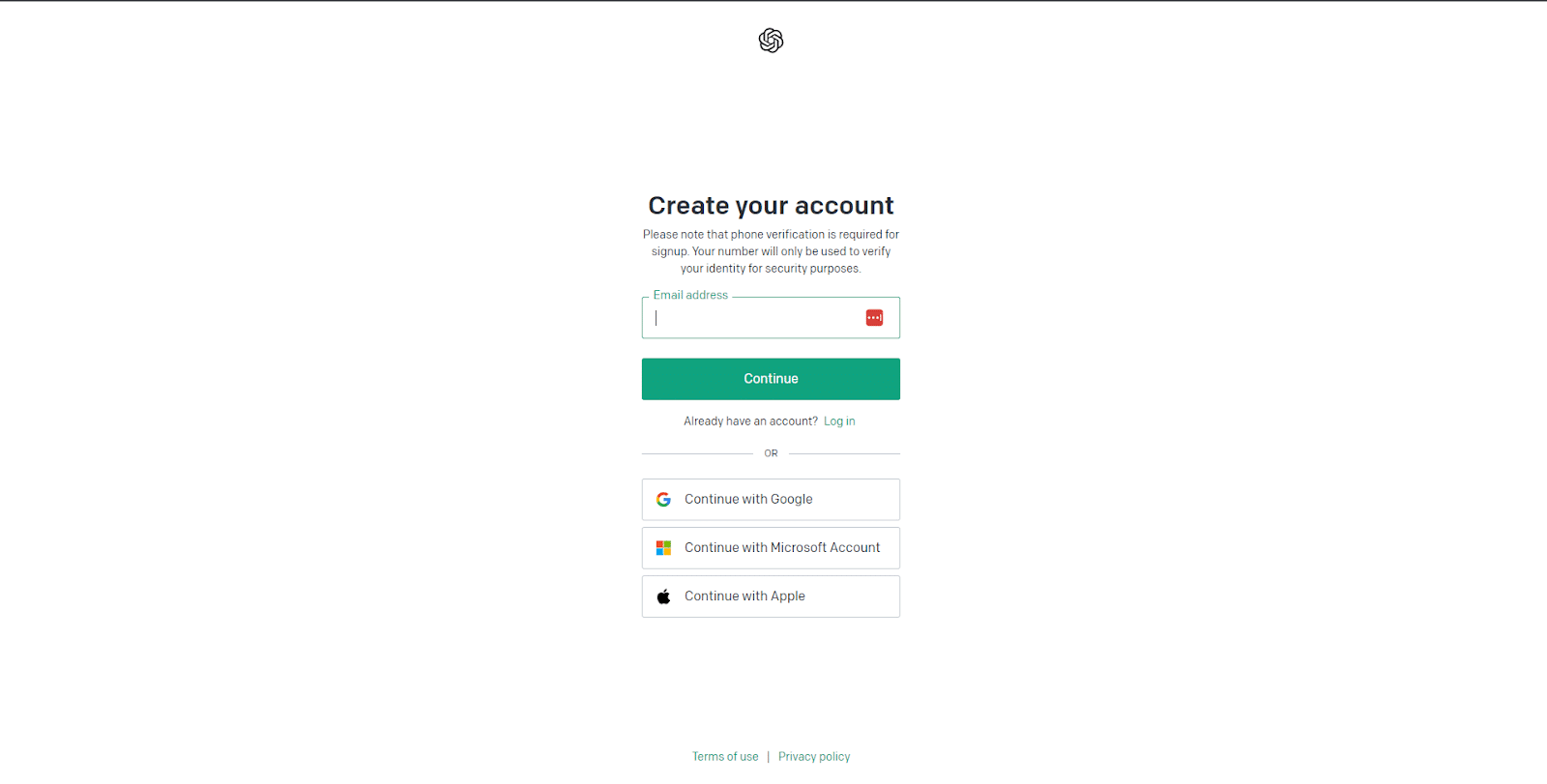 2. Start a New Chat:
Once logged in, navigate to the chat interface or dashboard.
Click on the "New Chat" or similar button to initiate a new conversation.

3. Enter Title/Topic (Optional):
Before entering the prompt, you may have the option to provide a title or topic for the conversation.
This feature allows you to give a brief description or context to help organize and identify saved conversations later.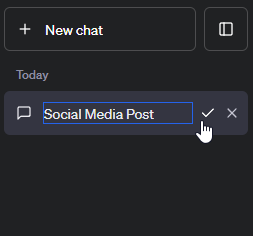 4. Input Prompt:
In the chat interface, you'll find a text box or input field.
Enter your prompt, which can be a question, topic, or sentence to start the conversation.
After entering your prompt, click on "Send message".
ChatGPT will process your input and generate a response based on its trained models and algorithms.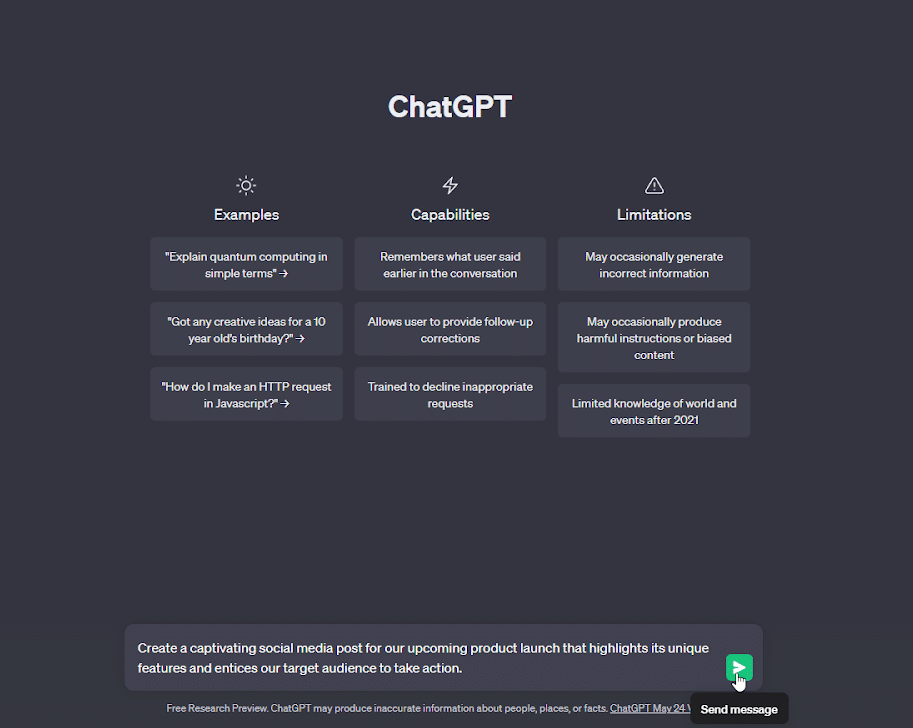 5. Review the Response:
The generated response will appear in the chat interface.
Read the response carefully to evaluate its coherence, relevance, and overall quality.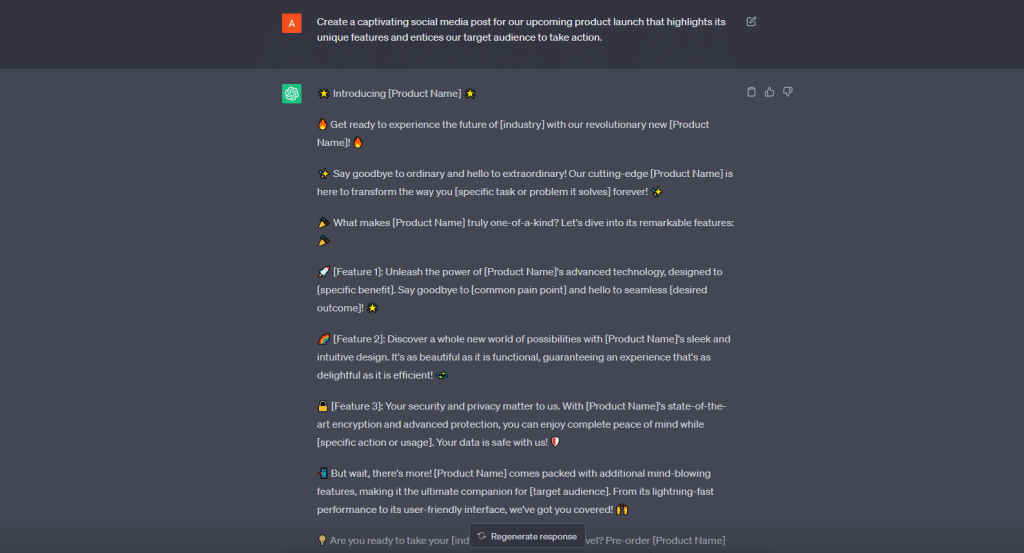 6. Refine the Prompt (if necessary):
If the initial response doesn't meet your expectations or requires refinement, you can edit or refine the prompt.
Modify the prompt to provide more specific instructions or clarify the desired output.

7. Generate Follow-up Responses:
If you are not satisfied with the response, you can generate a new response based on the current conversation by clicking on the "Regenerate response".
ChatGPT will continue the conversation based on the previous input and generate subsequent responses. This can be done to explore alternative or varied answers.

8. Iteration and Refinement:
Continue the process of generating responses, reviewing them, and refining the prompts as needed.
Here are some tips on how you can refine your results:
Be detailed and very specific with your prompts or instructions
Specify the steps and desired length of your output
Provide examples
Break down complex tasks into simpler subtasks.
Iterate and experiment with these until you achieve the desired output. For more tips check ChatGPT Tips.
9. Save or Copy the Output:
If you come across a response that you find valuable or suitable for your needs, you can save it or copy it for later use.

10. End the Chat:
Once you have obtained the desired responses or completed the conversation, you can end the chat session or start another conversation on a different topic.
Limitations of ChatGPT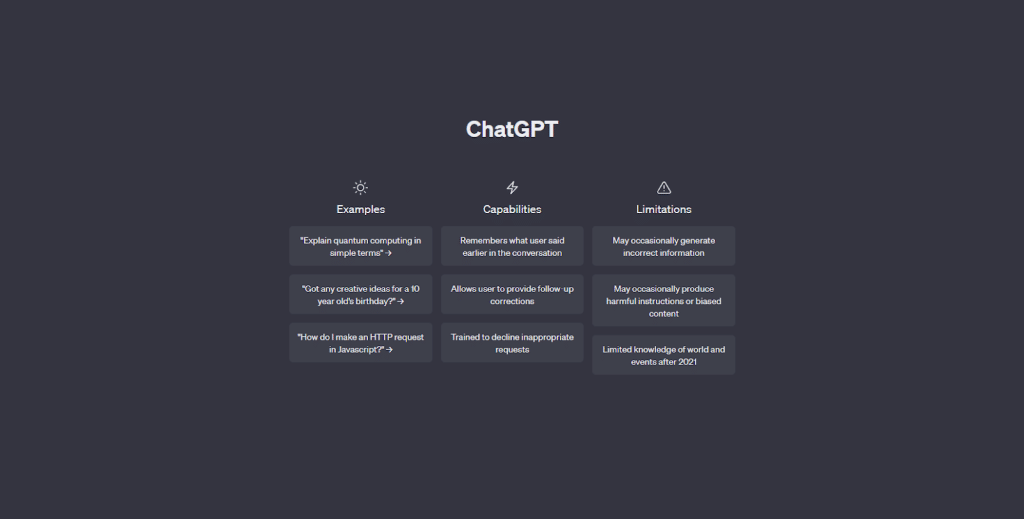 Even though we can consider AI writing tools like ChatGPT powerful and intelligent, it still has limitations such as:
Decline inappropriate requests
As part of its ethical guidelines, ChatGPT declines to fulfill inappropriate requests that may include: offensive or discriminatory content, illegal activities, personal or sensitive information, misinformation, or harmful advice.
Most of the responses are very structured. You need to rewrite some parts for human touch.
ChatGPT cannot provide links or references to the information in its responses.

Details are not 100% accurate
As stated on the website, it may produce inaccurate information about people, places, or facts. That's why it is important to ensure the data you extract.

One thing you can do to improve this is to provide feedback.
Feedback on ChatGPT responses
ChatGPT allows users to analyze and give feedback on generated responses, helping to improve accuracy and tailor future outputs.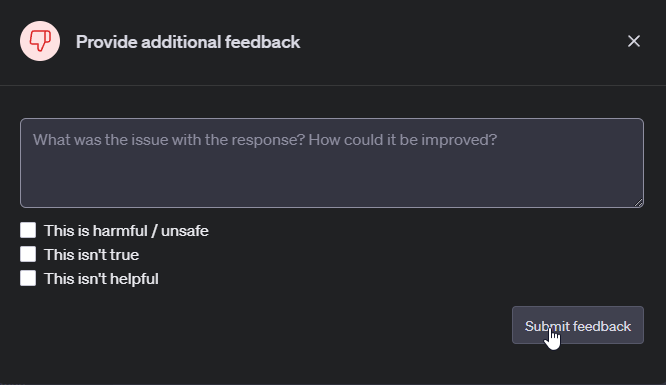 Now, let's explore its versions.
ChatGPT version: Free or Plus?
Free Plan
ChatGPT has a free version open for all that offers:
Basic access to ChatGPT functionalities
Ability to generate content and receive responses
General-purpose AI writing tool
Plus Plan
On the other hand, it also offers an upgraded plan called ChatGPT Plus for $20 monthly. This version offers:
Faster response times
Priority access during peak hours
Expanded word limits for responses
Early access to new updates and enhancements
So what's the best to use? It really depends on your need.
If you have the budget and need a wide range of listed features on ChatGPT, subscribe to the Plus plan. But if you only need the basic functionalities, the free plan is good to go.
Conclusion
Overall, ChatGPT serves as a powerful ai writing tool in the content creation arsenal. It simplifies the writing process, provides helpful suggestions, and saves time and effort. By leveraging its strengths, being mindful of its limitations, and infusing your personal touch, you can create compelling content that resonates with your audience, boosts your marketing efforts, and drives meaningful results.
2. CopyAi
Introducing CopyAi: Say goodbye to writer's block and tedious brainstorming. With a variety of existing templates and the freedom to customize the tone and style, this powerful tool provides a head start in creating engaging marketing copies that align perfectly with your brand's voice and personality.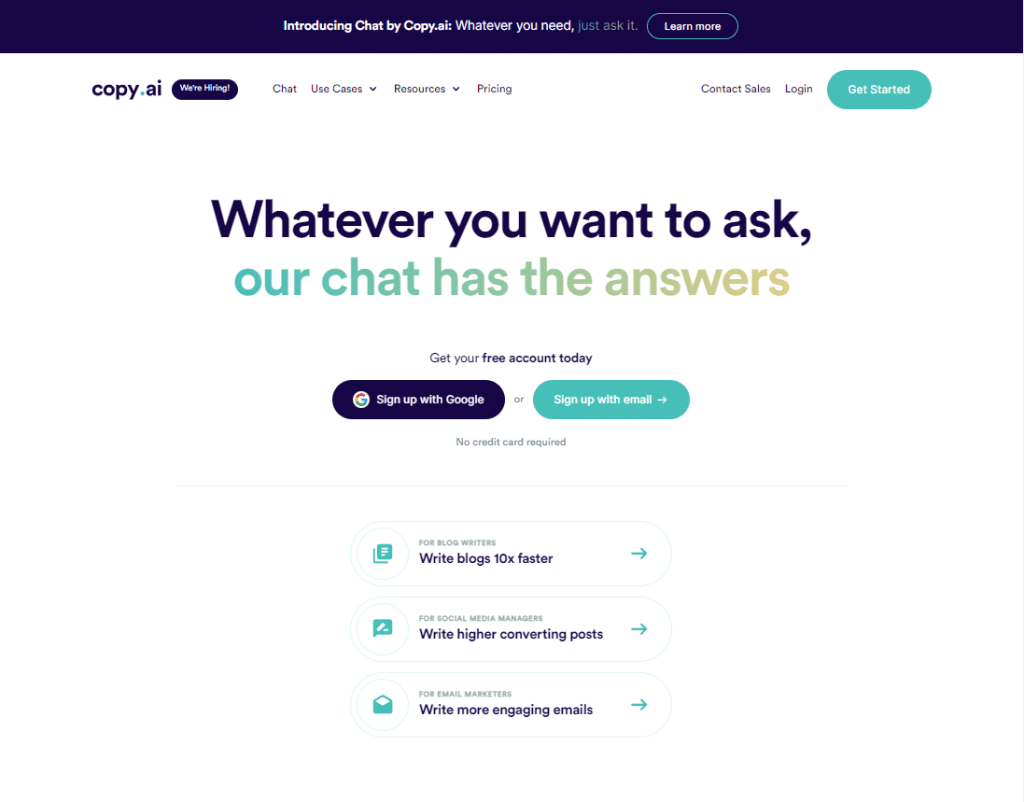 CopyAi Features:
CopyAi supports multiple languages, including English, Spanish, French, German, and more. You can generate content in different languages, making it easier to reach a global audience.
CopyAi can generate content in different tones and styles, such as casual, formal, professional, or humorous. You can tailor the tone and style of the content to your audience or brand.
CopyAi offers a diverse range of available templates, making it easy for you to generate high-quality content across various platforms.
Blogs:
How-to Blogs
Listicles
Blog Ideas
Meta Descriptions
Thought Leadership
Feature Stories
Email Marketing:
Lifecycle Emails
Nurture Sequences
Discount and Sales
Event Promotion
Follow-Up Emails
Cold Outbound
Social Media Posts:
Facebook Posts
YouTube Descriptions
TikTok Scripts
Pinterest Descriptions
Instagram Captions
LinkedIn Posts
Aside from the available templates, with CopyAi, you are in control of your content creation process. You can create your own custom templates for various purposes. This unique feature not only saves you time but also guarantees consistency across all your content pieces.
How to Use Copy AI?
1. Log in
Sign up and create an account on CopyAi's website.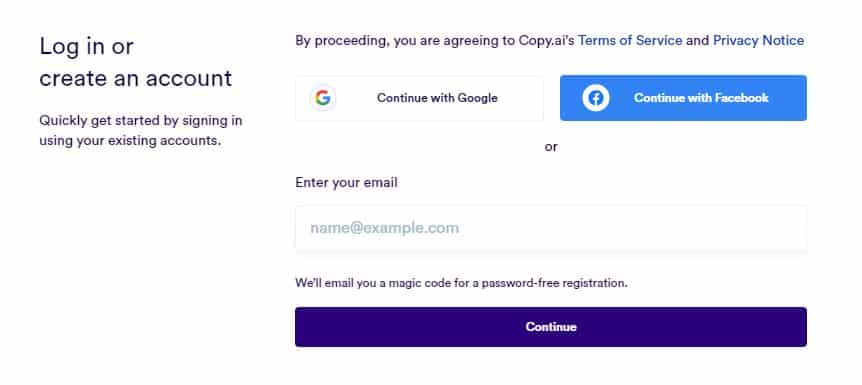 2. Create New Project
Once you're logged in, you'll see a dashboard with several options. Click on "New Project" to start creating your content.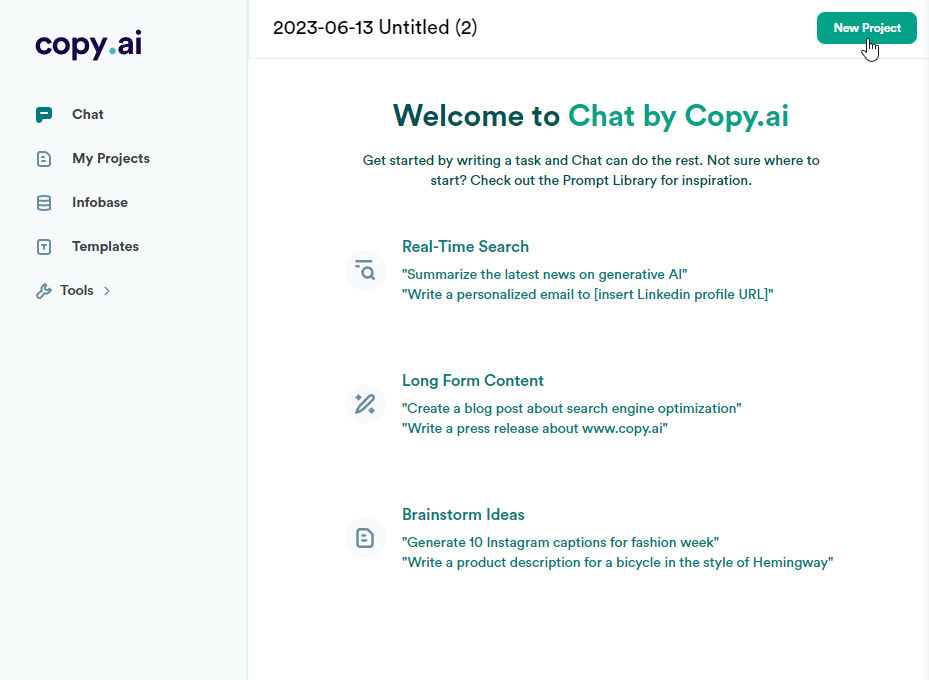 3. Choose Templates
Explore the available templates and select the one that matches your content type or purpose.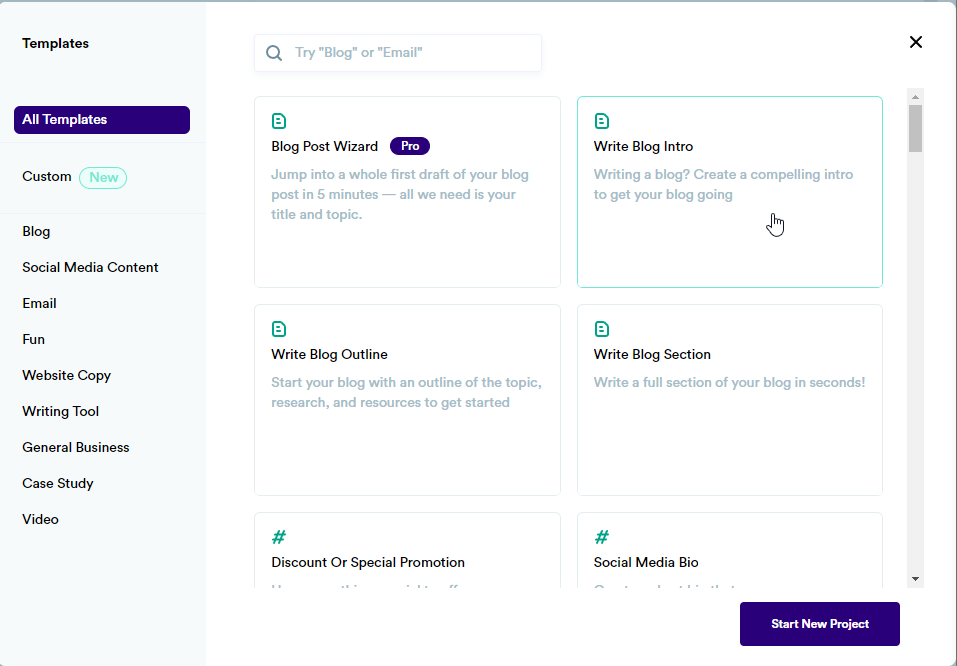 4. Input Details
Customize the template by inputting relevant information such as product details, target audience, and specific keywords. You can choose a tone for each content.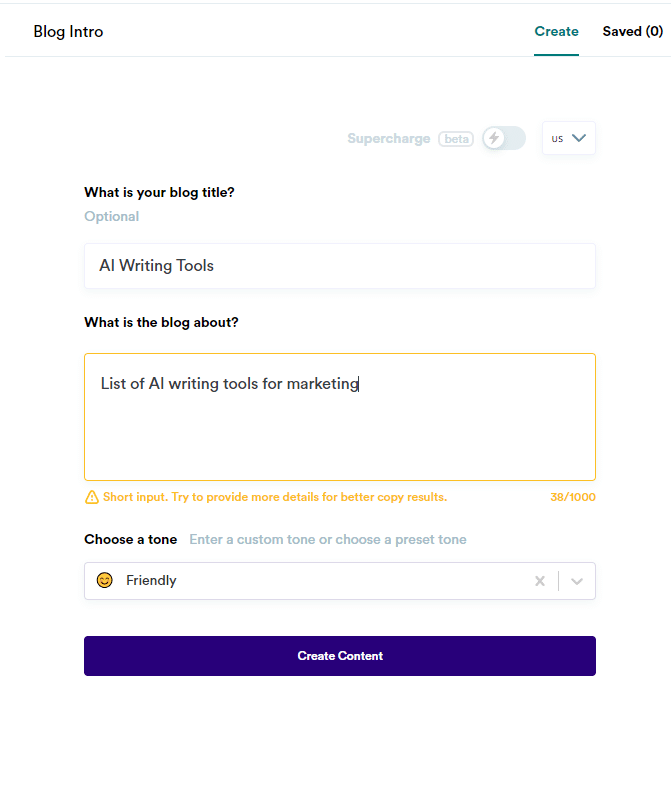 5. Create Content
Click on "Create Content" and wait for CopyAi to create a draft of your content. You'll have multiple options you can choose from.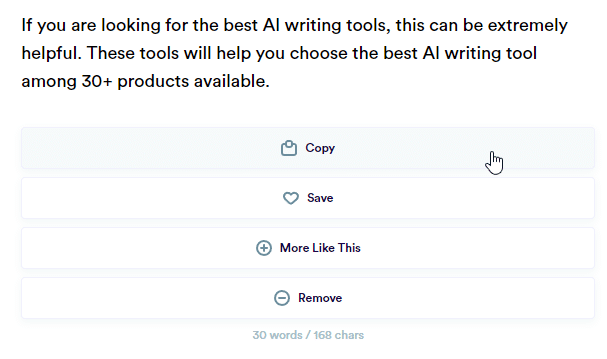 6. Chat
You can also use the chat feature. CopyAi's chat feature to have interactive conversations and receive creative suggestions for your content. Utilize this AI-powered prompts to spark ideas.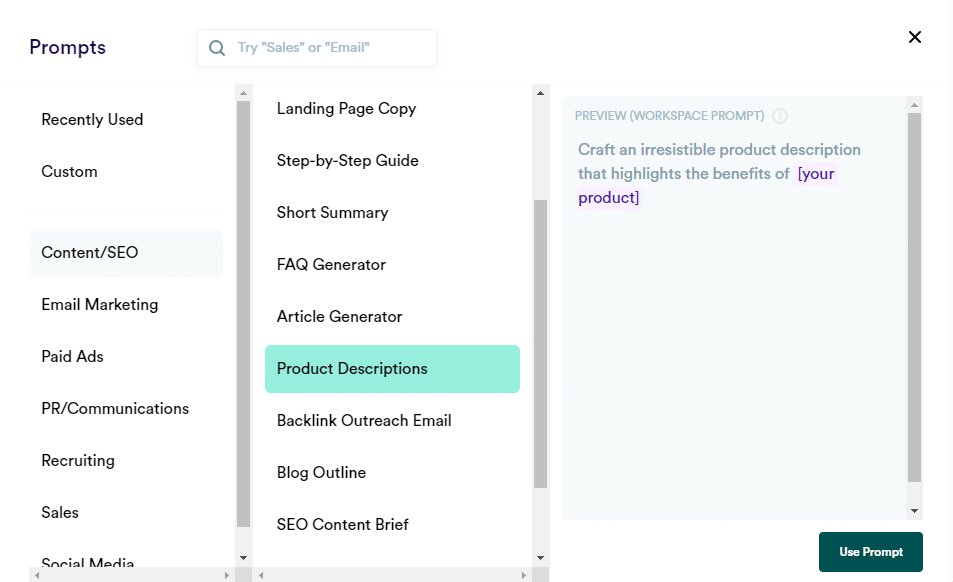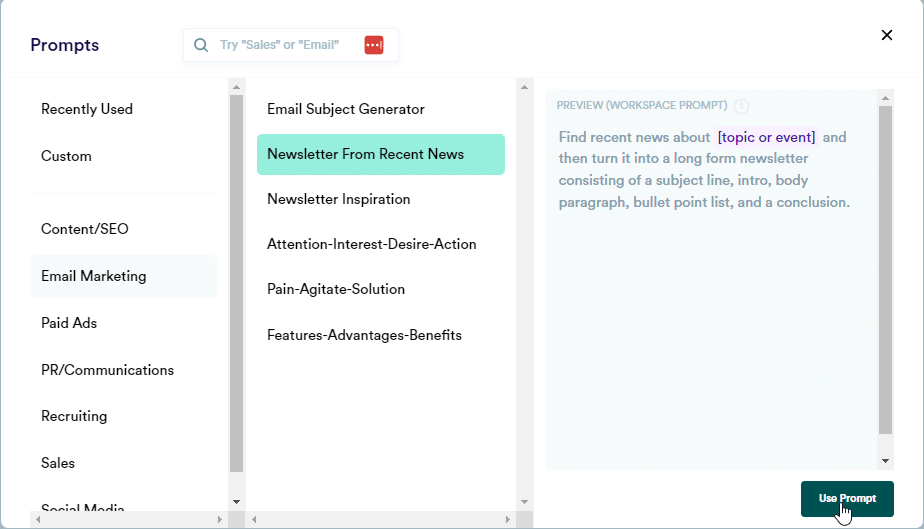 Bonus: CopyAi provides sources and links to the information it provided. It will make it easier for you to validate the accuracy of the generated responses.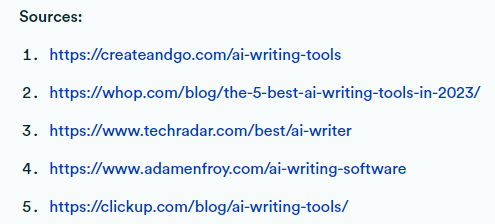 7. Revise
Review the draft and make any necessary edits or revisions. You can directly edit and format your content in the CopyAi editor.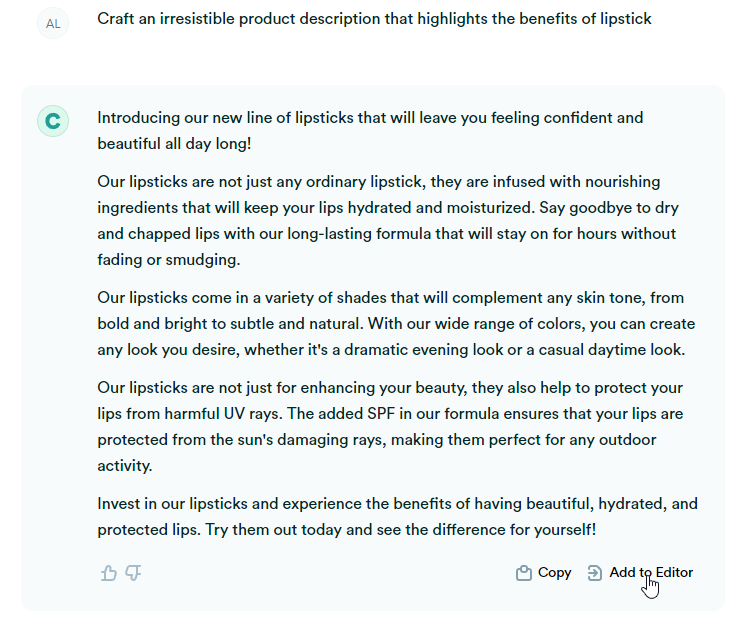 At the bottom part, you can also see the number of words, characters, and estimated school grade level required to understand the text.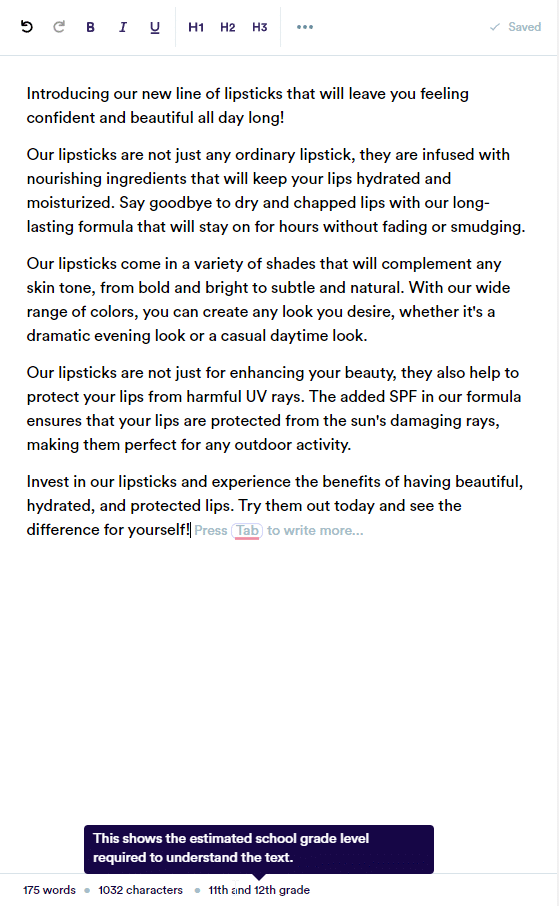 Once you're satisfied with the content, you can download it or copy and paste it into your desired platform.
Want to know more about CopyAi's features, tips, and how to refine results? Read this comprehensive CopyAi review.
Limitations of CopyAi
Like any other AI writing tool, CopyAi has downsides. Here are a few:
Too long to respond

For the free version of CopyAi, you can only have 2,000 free words per month.

Yes, I know. 2,000 words per month is not enough that probably you can consume it in just one day. So here are some options for you:
CopyAi: Free or Pro?
CopyAi Free Plan
This is the version that you can use for free with limited features such as:
2,000 free words per month.
Access to a limited set of templates for various content types.
Ability to generate content using AI-powered prompts.
Basic customization options to tailor the generated content to your needs.
Limited content length.
This is ideal for users who want to explore the tool and its capabilities at no cost.
CopyAi Pro Plan
CopyAi pro plan costs $49 monthly and has a 25% discount when you pay yearly billing a total of $36 per month. Subscribe and you can enjoy these features:
Full access to AI features
Unlimited words
Multiple language support
Custom content templates
Longer content length
Priority email support
Priority access to new features and updates as they are released.
This is ideal for users who require more advanced features and a comprehensive set of templates for their content creation needs.
Overall, the pro plan offers unlimited credits, full access to AI features, and more customization options, making it a great choice for businesses and individuals who need to generate a lot of high-quality content. However, the free plan is a good option for those who need to generate content on a smaller scale or who want to try out CopyAi before committing to a paid plan.
Choosing between the Free and Pro plans depends on your specific requirements and the level of customization and functionality you need. While the Free plan provides a taste of CopyAi's capabilities, the Pro plan unlocks the tool's full potential, offering a wider range of templates and advanced features to enhance your content creation process.
Conclusion
In today's digital age, where content is king, having high-quality content is more important than ever. That's why CopyAi is such a valuable tool — it helps you create content quickly and easily, without sacrificing quality. So if you want to save time and create top-notch content, give CopyAi a try!
3. Hypotenuse AI
The future of marketing and content creation is here!
Meet Hypotenuse AI, your new virtual copywriter. Hypotenuse uses advanced natural language generation to produce conversational, on-brand marketing copy in seconds.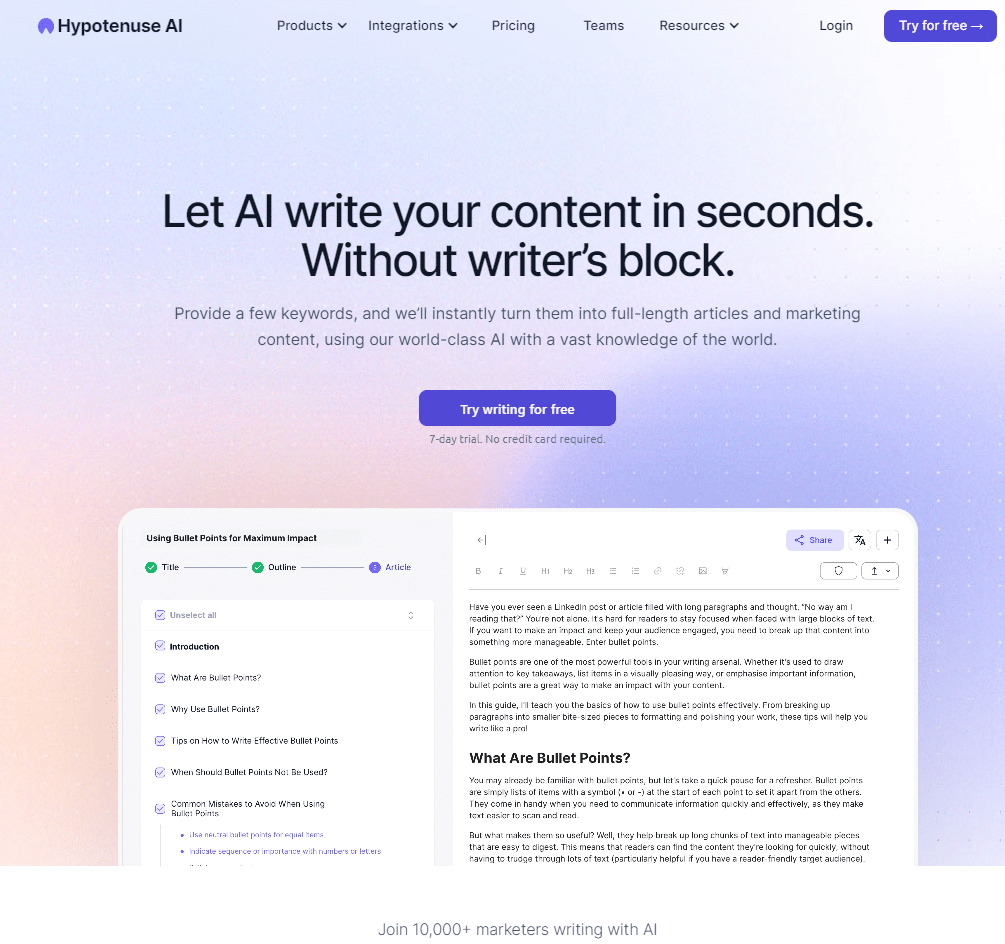 By understanding your brand's voice and tone, industry trends, and customer needs, Hypotenuse is able to craft relevant, targeted, and consistent copy for your marketing campaigns. Whether you need blog posts, social media captions, email subject lines, product descriptions, or anything in between, Hypotenuse's AI writing assistant can generate fresh, human-like copy that converts.
And there are a lot of exciting features to discover.
Hypotenuse AI Features:
Hypotenuse AI provides a collection of pre-designed templates that serve as starting points for creating different types of content.
General:
Ask AI anything
Rewrite content
Summarize content
Marketing angles
Simplify language
Ads & social:
Instagram captions
LinkedIn posts
Google ads
Facebook ads
Youtube titles and descriptions
Video hook and introduction
Site:
Website headlines and slogans
Landing page content
Meta titles and descriptions
Category page descriptions
Bio writer
Newsletter & comms:
Email copy
Press releases
Hypotenuse AI's Compose feature: Empowered by AI, this remarkable tool offers mesmerizing autocompletion capabilities. Unleash your creativity as you effortlessly continue writing in a free-flowing style or guide the AI with instructions to generate captivating content across various formats and diverse topics.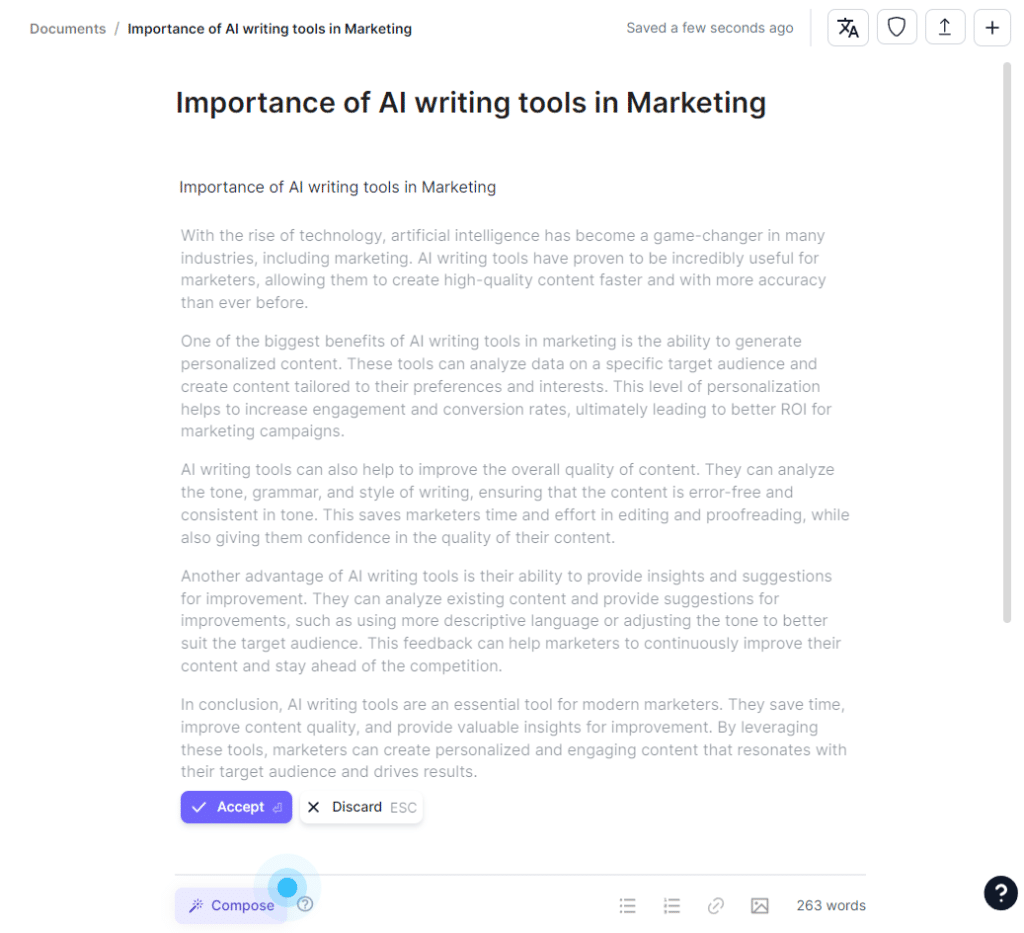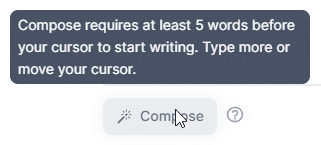 It has a plagiarism checker to scan your document on the go.


Multiple language options? Say no more. You can choose the language you want to generate.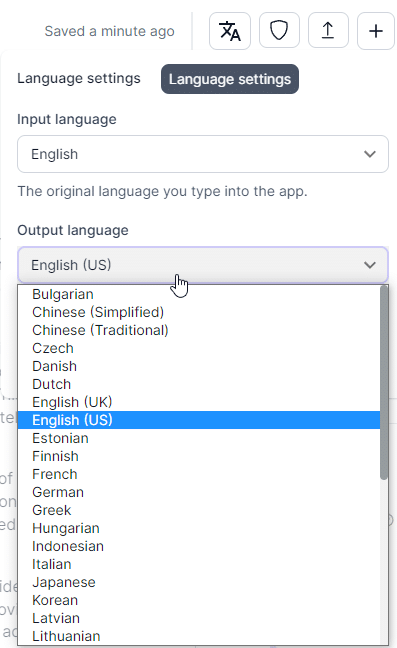 All done? You can export it directly as a document or publish it to WordPress.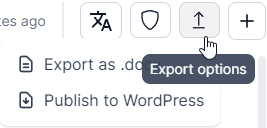 This simplifies the product description process by generating descriptions that highlight key features, benefits, and unique selling points. You just need to input relevant information about the product and it will generate well-written descriptions that you can further customize and optimize.
This feature streamlines content generation by allowing users to create multiple pieces of content simultaneously. This capability is particularly useful for content marketing campaigns, promotional activities, or when there is a need for a substantial amount of content in a short period.
You can choose among these features depending on your content needs, and the best part? The more you use Hypotenuse AI the more it learns your writing style and preferences. So over time, the AI-generated content will sound even more like you wrote it yourself.
But, where to start? Here's a short guide on how to use Hypotenuse AI.
How to Use Hypotenuse AI?
1. Sign Up
Head to hypotenuse.ai and click the "Sign Up" button. Enter a valid email address and password to create your account.
2. Enter Information
Enter some basic info like your name, company, and content focus. This helps Hypotenuse AI tailor suggestions to your needs.

3. Log in
Once you've logged in to your Hypotenuse AI account, you will see the dashboard with its features.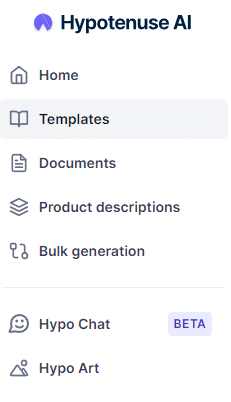 Let's check the available templates.
4. Templates
View the template library and choose based on your need.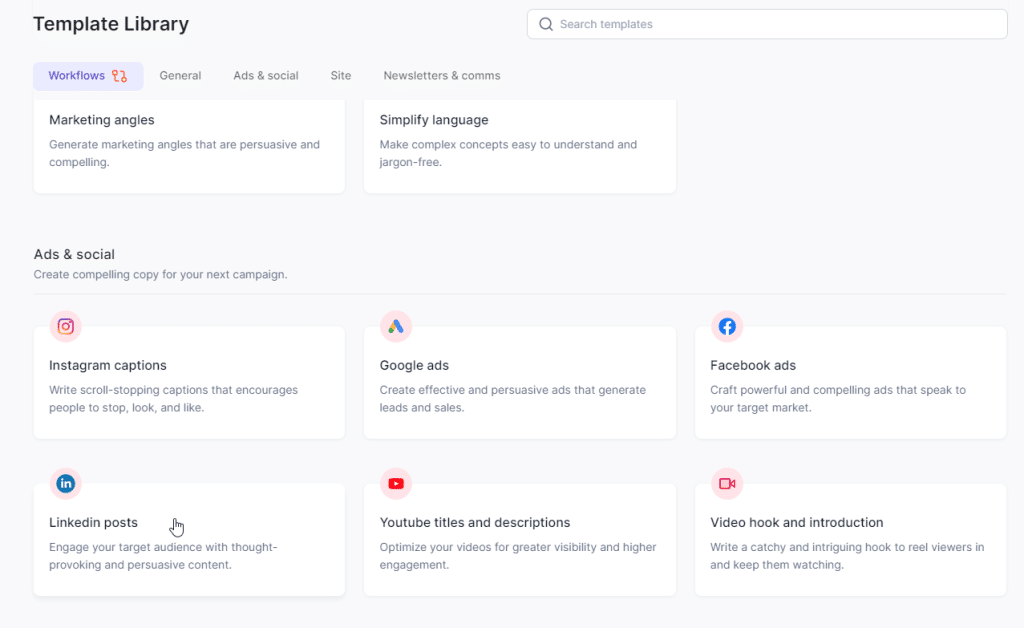 5. Customize the template
Input relevant details, scope, and keywords of your content, and set the tone you want.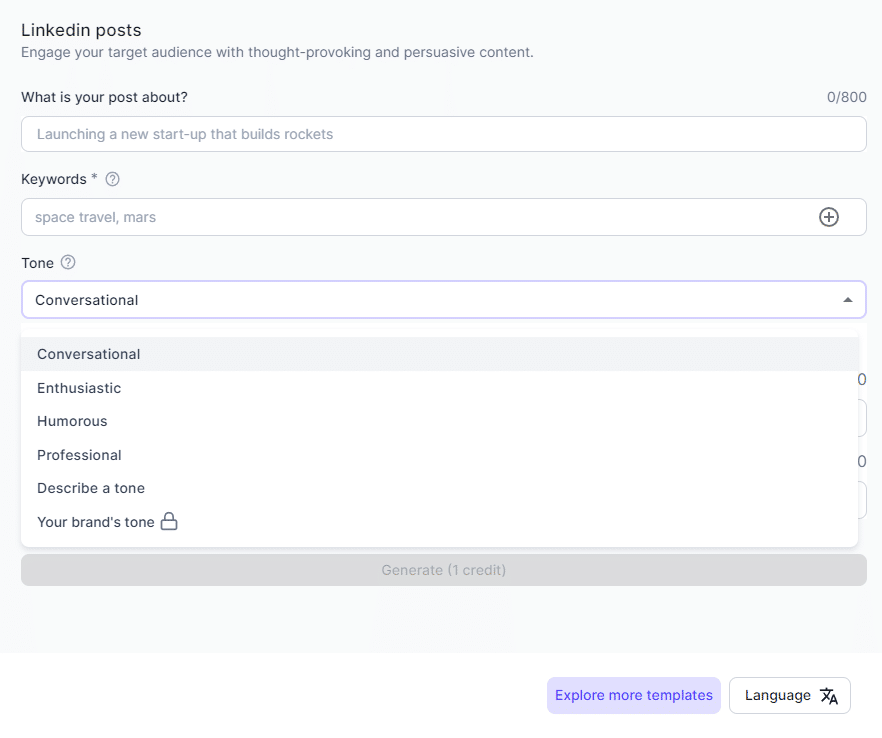 6. Generate
Once you've customized the template, click "Generate" for Hypotenuse AI to automatically write a draft for you. Remember: every "generate" costs 1 credit.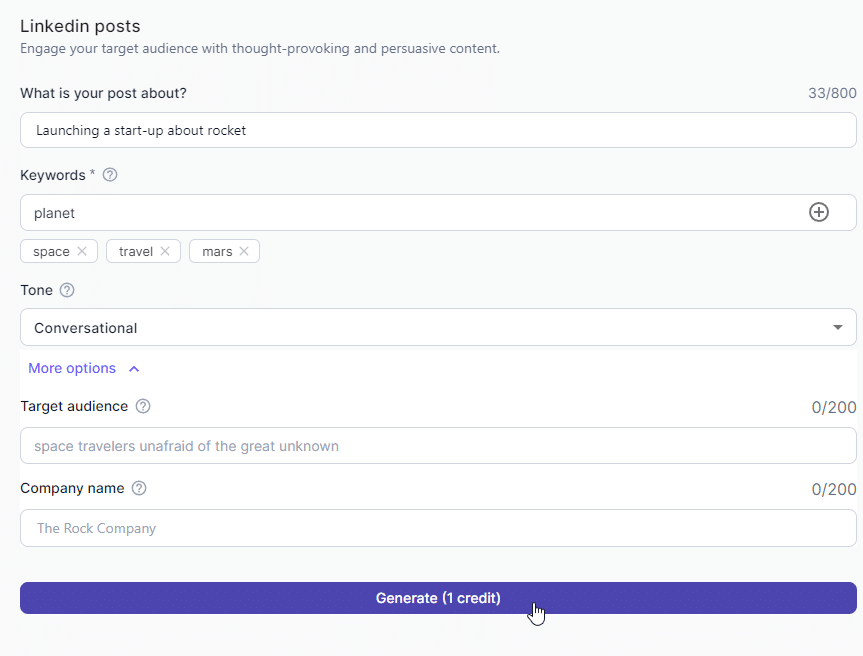 You can also add more options: target audience and company name to make the generated content more personalized.
7. Review
Hypotenuse AI will generate at least 3 responses. Review and tweak as needed, then publish!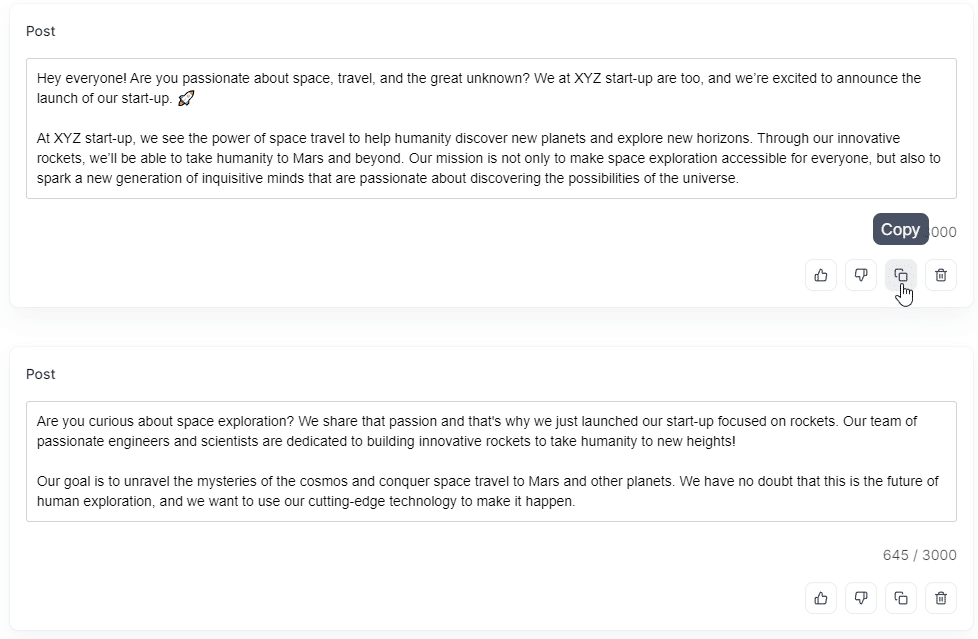 This is just the basics. Hypotenuse AI has more great features; product description and bulk generation are real game-changer that you should try. But in trying, keep this in mind:
Limitations of Hypotenuse AI
The Hypotenuse AI chat feature is still in the beta phase.
You can only try this AI writing tool for 7 days with only 15 credits.
What's credit? Credits allow you to generate content for a content type. The number of credits charged depends on the content type:
Product descriptions cost 1 credit
Blog posts cost between 1-8 credits, depending on the number of paragraphs
Basically, every function you do in Hypotenuse AI needs credit. So, how you can obtain more credits? You can check Hypontenuse AI plans for options.
Hypotenuse AI Plans and Pricing
Basic Plan
Price: $19.99/month
Credits: 50/month
Features:
Access to basic features of the Hypotenuse AI platform.
Limited access to HypoChat
Bulk workflows
25+ languages
Standard support
1 user
Starter Plan
Price: $49.99/month
Credits: 100/month
Features:
All features of the Basic plan.
Access to HypoChat
1 user
Growth Plan
Price: $99.99/month
Credits: 350/month
Features:
All features of the Starter plan.
Increased access to HypoChat
25 plagiarism checks
Priority email and chat supports
Up to 5 users
But, how many words will you be able to write with each plan?
A credit on average will allow you to generate about 250 words, which means:
50 credits: about 12,500 words
100 credits: about 25,000 words
350 credits: about 87, 500 words
Tip: Hypotenuse AI provides discounts or promotional offers from time to time, especially for annual or multi-year subscriptions. Reach out to their sales team or check their website for any ongoing promotions or discounts that may be available.
Which plan would be better for you?
Ultimately, the best offer will depend on your business requirements, budget, and growth plans. Consider the features and pricing of each plan in relation to your specific needs to make an informed decision.
Conclusion
This is just a quick guide to getting started with Hypotenuse AI and putting its writing capabilities to work for you. Give Hypotenuse AI a try today and take your content creation to the next level! Don't be afraid to experiment — you might be surprised at how natural and engaging the writing can be.
4. Writesonic
In the world of AI-powered writing tools, Writesonic stands out for its exceptional features that elevate your writing experience to new heights. With an extensive collection of templates, the ability to define your brand voice, convenient voice commands, customizable personality settings, access to public prompts, and integration with the latest Google data, Writesonic offers a comprehensive toolkit to enhance your creative prowess and written communication.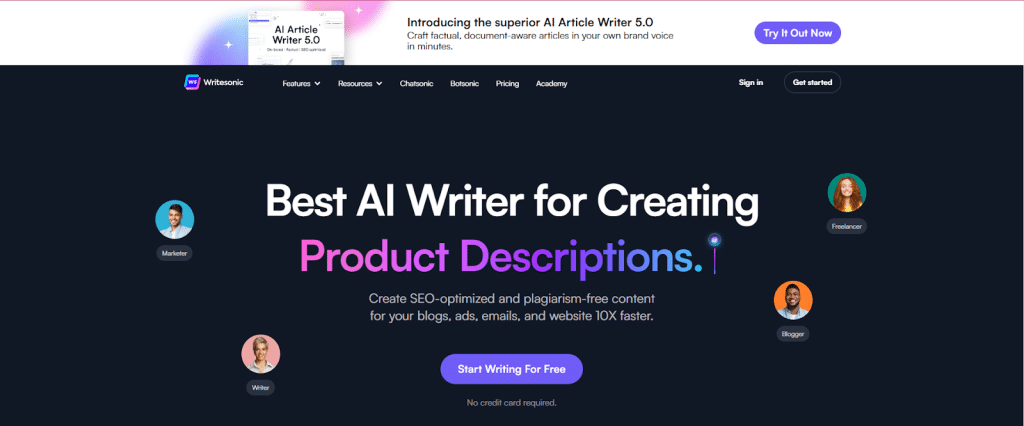 Writesonic Features
Writesonic offers a range of pre-designed templates in its library that can serve as starting points for your various writing projects. These templates can be customized and tailored to suit your specific needs, saving you time and effort in creating content from scratch. You can choose from these templates:
Articles and Blogs:
AI Article Writer 5.0
AI Article Writer 4.0
AI Blog Titles
Paragraph Writer V2
AI Article Ideas V2
AI Articles Outlines V2
AI Article Writer 3.0
Instant Article Writer
Sonic Editor
Article Rewriter
AI Article Ideas
AI Article Intros
AI Article Outlines
Conclusion Writer
Ads and Marketing Tools:
Facebook Ads
LinkedIn Ads V2
Google Ad Titles V2
Google Ad Descriptions V2
App and SMS Notifications
LinkedIn Ad Descriptions
LinkedIn Ad Headlines
General Writing:
Botsonic – Train ChatGPT on your data
Chatsonic (Like ChatGPT)
Personal Bios
Text Extender
Company Bios
Content Rephrase
Quoara Answers
Content Shroten
Stories
Bullet Point Answers
Passive to Active Voice
Definition
Answers
Pros and Cons
Questions
Emails
Rewrite with Keywords
Email Subject Lines
Cold Emails
Company Mission
Company Vision
Ecommerce:
Product Descriptions
Amazon Sponsored Brand Ads Headline
Amazon Product Descriptions
Amazon product Features
Amazon Product Titles
Social Media:
Twitter Threads
Social Media Content Plan
LinkedIn Posts
Instagram Captions
Twitter Tweets
Trending Instagram Hashtags
YouTube Descriptions
YouTube Intros
YouTubeHooks
Tiktok Video Scripts
Tiktok Video Hooks
YouTube Ideas
YouTube Outlines
YouTube Titles
Website Copy:
SEO Meta Tags V2
Landing Pages
Call to Action
Feature to Benefit
Landing Page Headlines
SEO Meta Tags (Blog Post)
SEO Meta Tags (Homepage)
SEO Meta Tags (Product Page)
Other:
Photosonic Image Generator
Text Summary
Citations Generator
SEO Keywords Generator
Tone Changer
Make your own AI
Song Lyrics
Real Estate Listing Descriptions
Pain-Agitate-Solutions
Review Responder
AIDA Framework
Product Names
Analogy Maker
Growth Ideas
Keyword Extractor
Listicle Ideas
Startup IDeas
Translate
You can input the topic or add links and upload a file from your existing reference article. From there, Writesonic will generate an article that can be further refined and personalized as needed.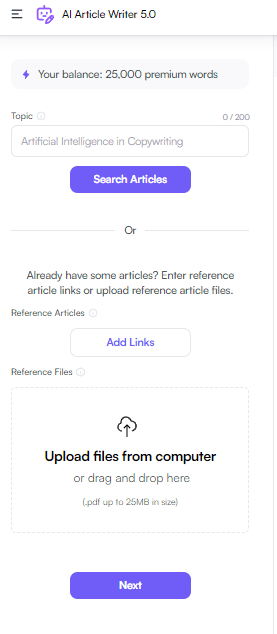 You can add keywords, brand voice, and other additional information.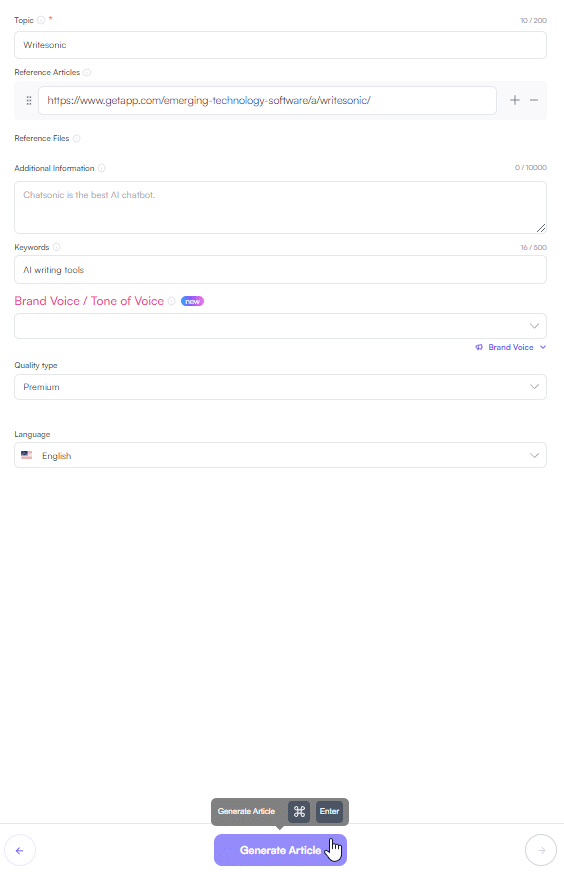 You can select multiple articles as references. Before you generate, this will flash on the screen for you to final check.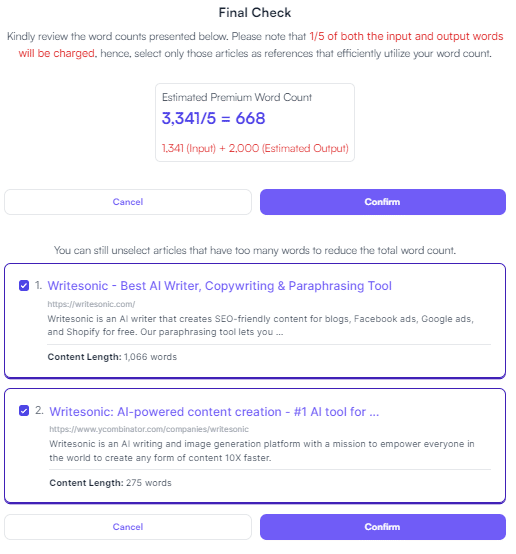 You'll see the content length of each article as well as the estimated word count of input and output and the total number of deducted words from your balance.
Writesonic can synthesize your unique tone from your blog posts, text, or documents. You can import your content to train Writesonic on your writing style by adding a link, some text, or uploading files from your computer.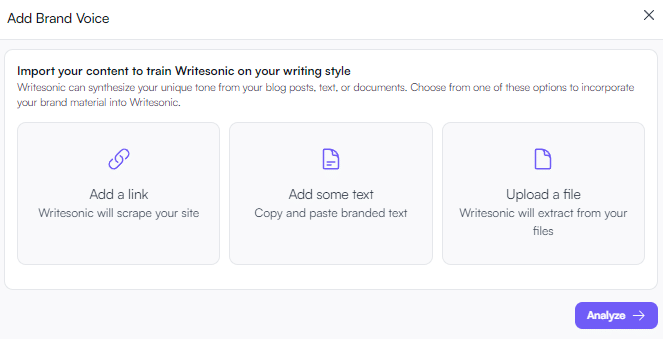 After Writesonic analyzed your brand voice, you can name this voice and make this a default.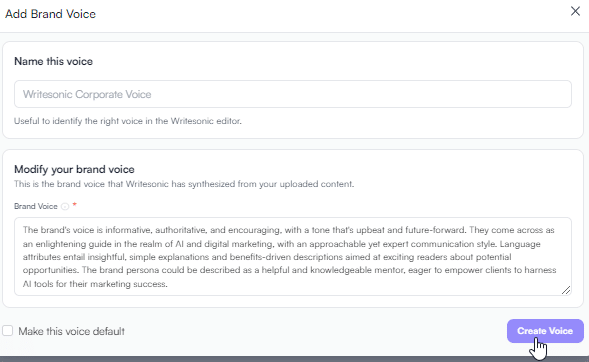 AI-powered conversational feature of Writesonic. It enables you to engage in interactive dialogues, making the writing experience more dynamic and engaging. You can have back-and-forth conversations with AI, allowing for a more interactive and collaborative writing process.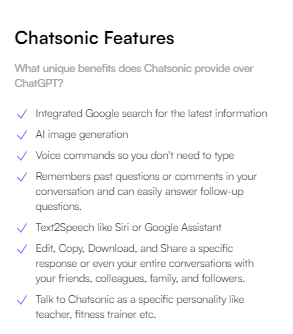 In Chatsonic, you can customize and save your preferences.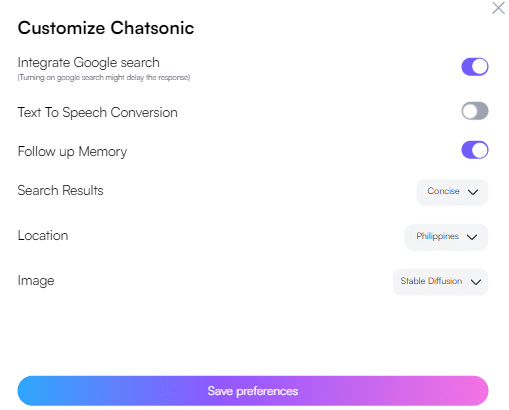 You can ask complex questions, create digital artwork, give voice commands, and generate professional content.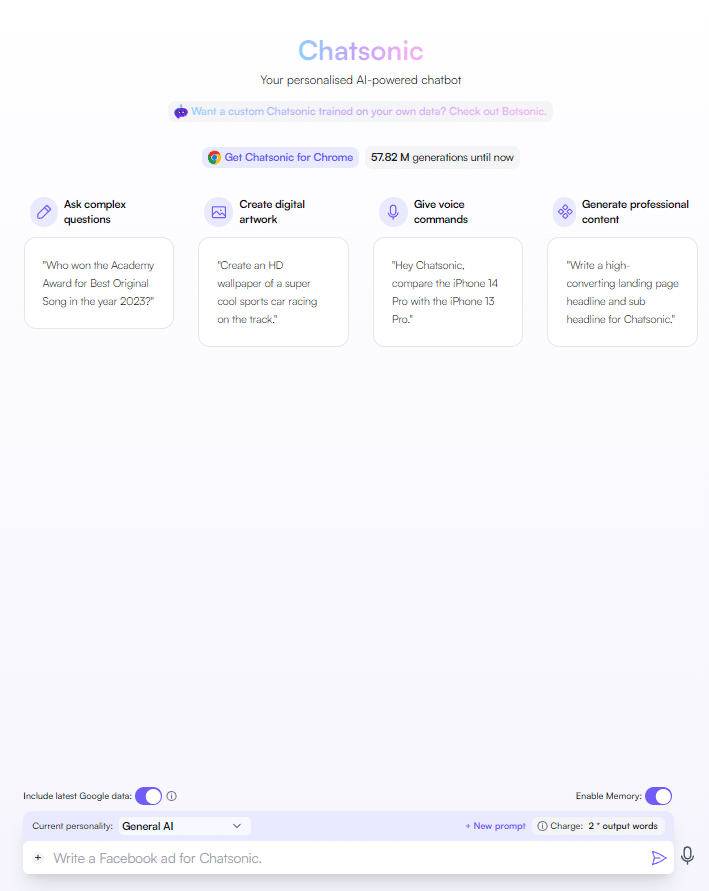 You also have the option to choose your current personality if you're a travel guide, poet, or just simply a general AI.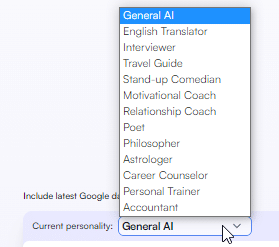 To streamline some of your content processes, you can create a new prompt by providing a title, description, template, category, and language.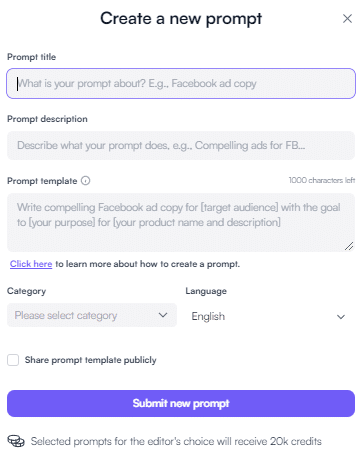 There are prompts in public you can choose from in different languages.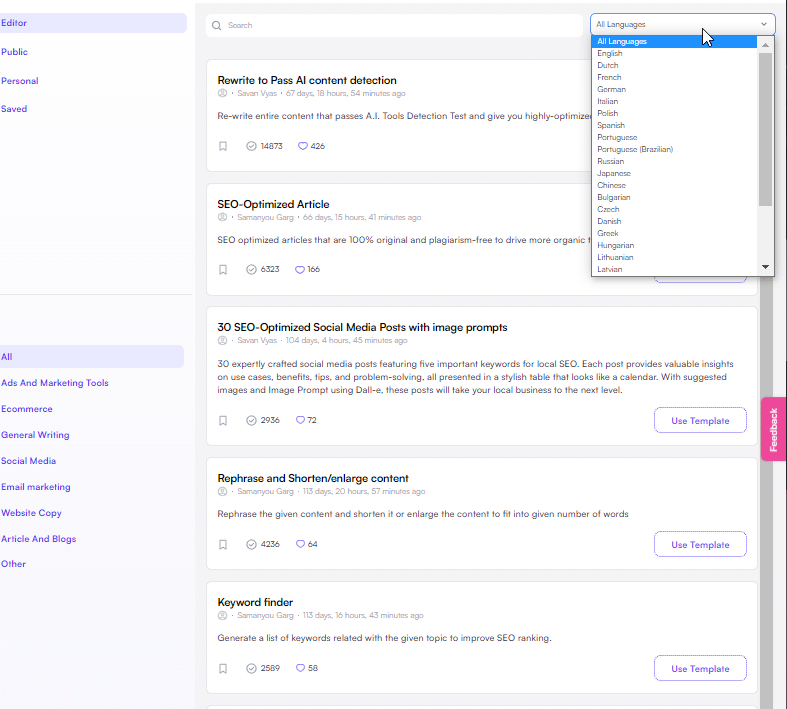 You can use public templates or make new ones for your personal use.
How to Use Writesonic?
1. Sign Up
Start by signing up for an account.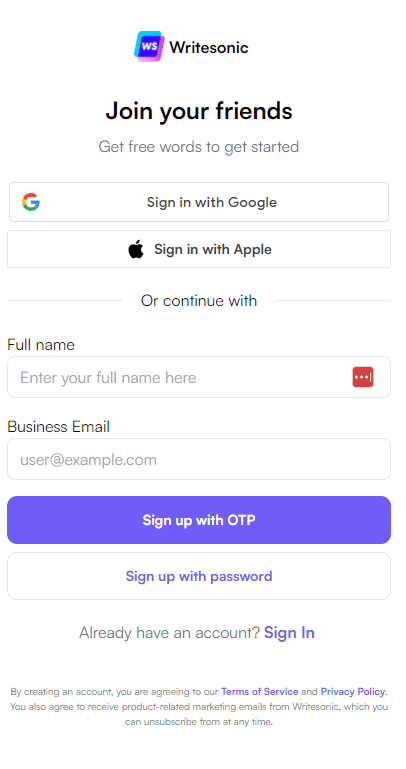 2. Create
After logging in, create new content by choosing from the available template options or directly typing on Chatsonic to get started.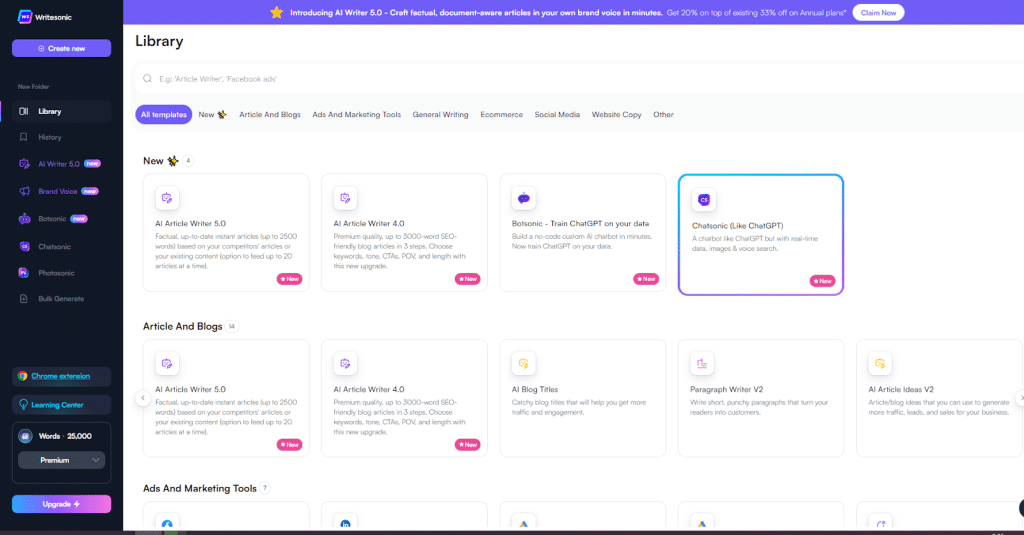 3. Customize Template
Input relevant information; topic, references, keywords, language. You can also choose the voice or tone you wanted. Select the saved one or create a new brand voice.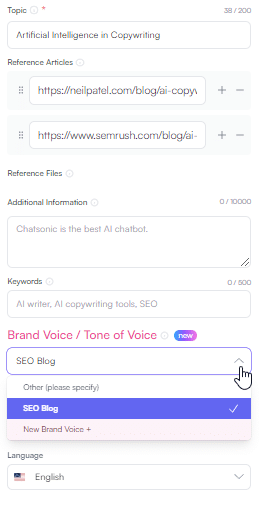 In Chatsonic, you can type or start recording your commands. For up-to-date content, just turn on the "Include latest Google data".

4. Edit
Once the article is generated, read, review, and directly edit it on the Sonic Editor.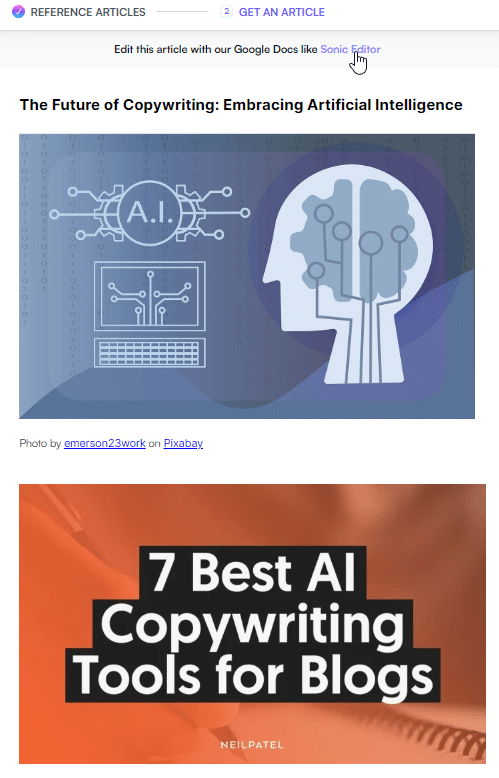 Similar to AI Article Writer, responses from the Chatsonic can be also edited in Sonic Editor.

Where text formatting, language, and creativity level options are available. Check out also the plagiarism checker!

5. Share
Finish? You can now share the document thru a public link or download it as a file (Microsoft Word, PDF, HTML). You can also export it directly to WordPress and Zapier.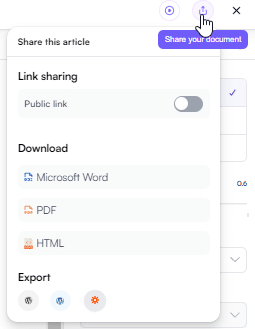 Writesonic is one of the most valuable AI writing tools available today especially the Writesonic chrome extension feature which can generate content, create outlines, or utilize other writing assistance tools directly on your chrome.
Want to explore more? Check the available references and guides about Writesonic on the Learning Center tab.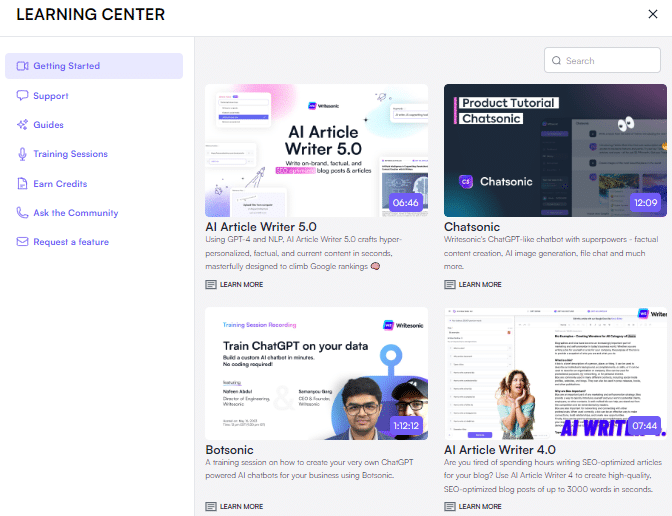 Seems like all you're looking for is here in Writesonic. A good package deal! But like any other AI writing tool, expect some downsides. Here are a few:
Limitations of Writesonic
Some articles are unavailable and couldn't scrape by Writesonic.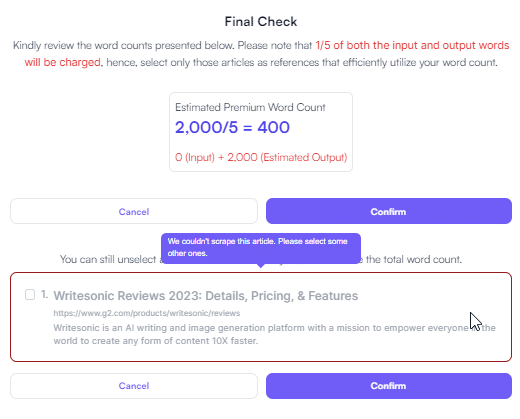 Only 25, 000 words are free for the free version.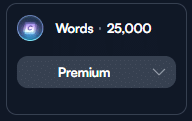 Looking for more words to generate? Check this out:
Writresonic: Free Trial of Pro?
Free
Free trial of Writesonic features helps you get a taste of AI writing.
1 seat
25, 000 words/month
Chatsonics: ChatGPT-like chatbot
Botsonic: No-code AI chatbot builder
100+ AI templates
AI Article Writer
Browser extensions
1-Click WordPress Export
Zapier Integration
Landing Page Generator
Sonic Editor (Google Docs like Editor)
25+ Languages
Pro
For bloggers, freelancers, and businesses. Awesome tools to help you write blog posts, books, and more.
Everything in Free-trial, plus:
Unlock GPT-4 and GPT-4+
Factual and Personalized Article Writer (Uses GPT-4 32K
Botsonic: No-code AI chatbot builder
Brand Voice ($33/month and above)
Complete Article Rewriter
API Access
Bulk Processing
Priority access to new features
Priority support
Prices:
$19/month – 100, 000 words (1 seat)
$49/month – 300, 000 words (5 seats)
$99/month – 600, 000 words (5 seats)
$199/month – 1,200,000 words (10 seats)
$499/month – 3,000,000 words (12 seats)
$999/month – 6,000,000 words (15 seats)
$1499/month – 9,000,000 words (20 seats)
$1999/month – 12,000,000 words (20 seats)
$2499/month – 15,000,000 words (20 seats)
Here's the catch, you can save 33% when you bill annually!
Are you torn between choosing the free trial or the pro version of Writesonic? Well, the decision boils down to your specific needs and goals.
The free trial offers a great opportunity to explore the platform's capabilities and familiarize yourself with its features. However, for those seeking advanced functionalities, access to additional templates, and unlimited usage, upgrading to the pro version can provide a significant boost to your writing productivity and efficiency.
Conclusion
In conclusion, incorporating Writesonic into your marketing toolkit is nothing short of a revelation. With its AI-driven prowess, you can conquer content creation challenges, stay true to your brand voice across platforms, and tap into the freshest Google data trends.
5. Wordtune
Words out of tune? Try Wordtune – your AI-powered writing companion that will harmonize your thoughts effortlessly. Simple and easy to use, Wordtune is here to transform your writing experience. Whether you're seeking help with writing or paraphrasing, or looking to extract key insights from lengthy documents, Wordtune is here to save the day. With its intuitive interface and powerful AI capabilities, Wordtune will help you compose captivating content, find the perfect words, and summarize information with ease.

Wordtune Features
This incredible tool suggests dynamic wordings, alternative sentence structures, and vibrant synonyms that inject life into your writing. Transform your ideas into captivating prose that resonates with the reader and leaves a lasting impact.
Tired of sifting through endless pages of text? Let Wordtune be your reading companion! It swiftly analyzes lengthy documents or articles and generates concise, yet comprehensive summaries. Uncover the key points, extract the essence, and save precious time while absorbing knowledge like never before.
So, how to use these features?
How to Use Wordtune?
1. Sign up
Start by creating an account. Sign up using your Google, Apple, or Facebook account.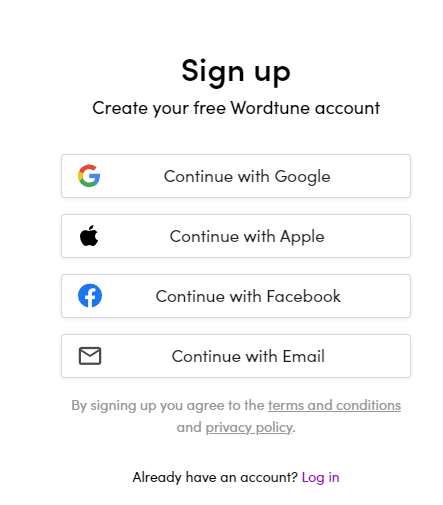 2. Choose
Choose between write and paraphrasing or read and summarizing.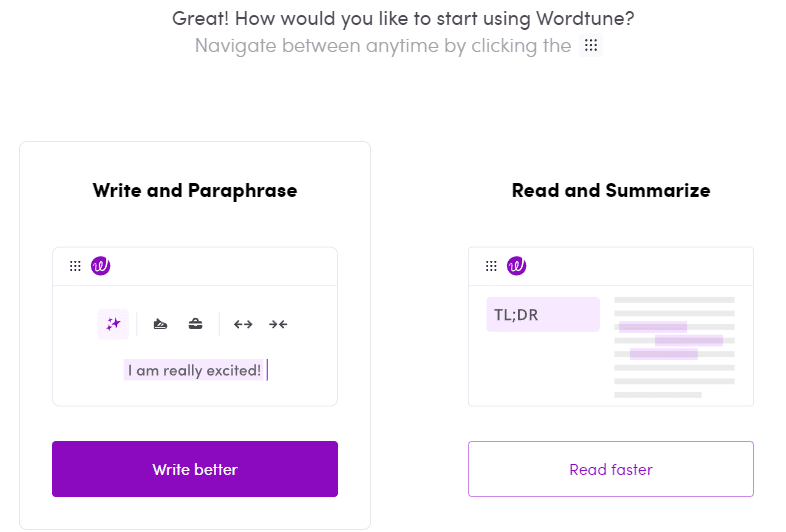 3. Write and Paraphrase
Let's try the write and paraphrase first.
You can write or paste text or you can directly ask Wordtune to write about a certain topic.


After that, you'll have options to accept, discard, or regenerate the response.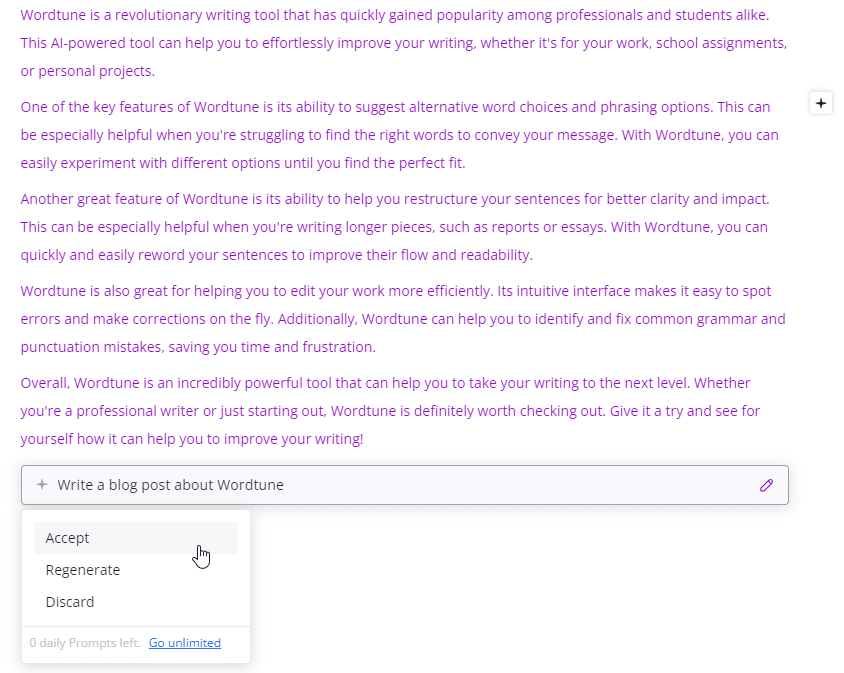 Once you accepted the response, you can tweak and customize the content.
Rewrite
You have the option to rewrite certain parts of the generated content.

Spices
You can also add spices such as:
Continue Writing
Explain
Emphasize
Expand on…
Give an example
Counterargument
Define
Give an apology
Statistical fact
Make a joke
Historical Fact
Nature Fact
Inspirational quote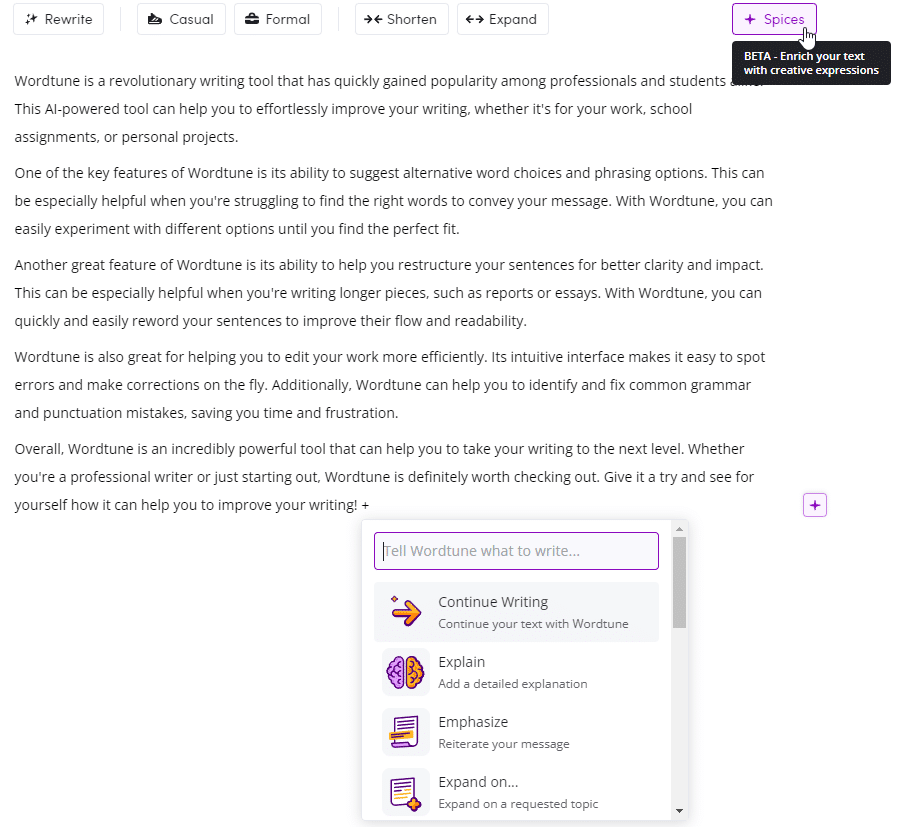 If you can't find what you're looking for, you can suggest a new spice.

To view other suggestions, click "Another suggestion"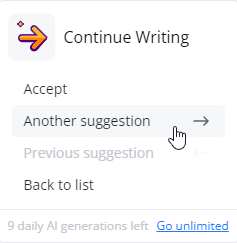 If you want to adjust the tone, you have two options: casual and formal. You are also able to shorten or expand the text length.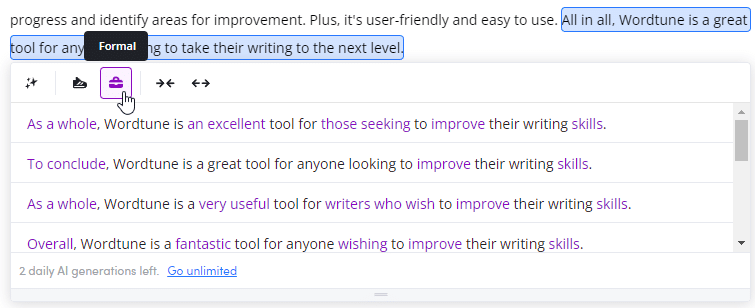 Format
Before copying the generated response, you can format the text and view the total word count.

4. Read and and Summarize
Now, let's try the read and summarize feature.
Upload a pdf, copy & paste any URL link, or directly paste the text of the content you want to summarize.

You'll see the text summary in bullet format.


Re-summarize, copy, or add to notes.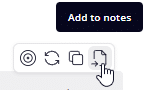 On notes, you can format and copy the whole text.

5. Share
For the Read and Summarize feature, you can share it through a link or export the summary to a Word document.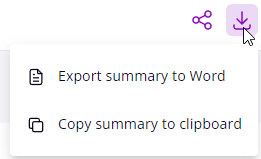 Limitations of Wordtune
Write and Paraphrase feature has no direct copy or download option.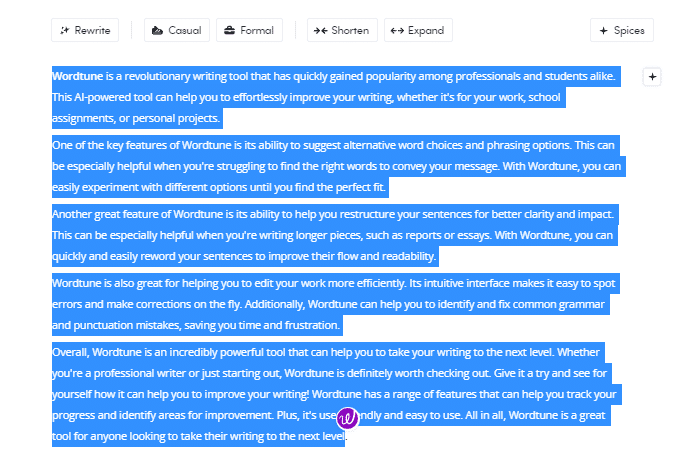 Wordtune has limited features. No available ready-made templates.
PDF is the only option available in uploading files in Read and Summarize.
For the free trial you only have limited access per day.
Check the full coverage of Free and other paid plans here:
Wordtune Plans and Pricing
Free
Free of charge
10 Rewrites and Spices a day
3 AI Prompts a day
3 Summaries a day
Unlimited Text Corrections
Plus
$24.99/month
30 rewrites and spices a day
5 AI prompts a day
5 Summaries a day
Unlimited Text Corrections
Unlimited Text Recpmmendations
Unlimited
$37.50/month
Unlimited Rewrites and Spices
Unlimited AI prompts
Unlimited Summaries
Unlimited Text Corrections
Unlimited Recommendations
Premium Support
You can save 60% on yearly plan. Check out also their 30% discount for students, educators, and NGOs.
What to choose?
If you're an occasional user or want to try out the tool, the free plan can be a good starting point. It provides access to Wordtune's essential features with some limitations.
For more advanced functionality and increased usage, the premium plans offer additional benefits.
Conclusion
Take the time to evaluate the features and pricing options available. Assess your usage frequency, desired features, and budget to determine the plan that best aligns with your requirements.
At the end of the day, if you're looking to make your work efficient, have a reliable and easy-to-use AI writing companion, scrape and summarize articles in just seconds, and add that much-needed spice to your writing, Wordtune is worth a try.
6. Creaitor.ai
Have you heard of Creaitor.ai? This innovative platform will help you to save time and make things better! From generating ideas to creating original content and enhancing existing materials, Creator.ai has got you covered.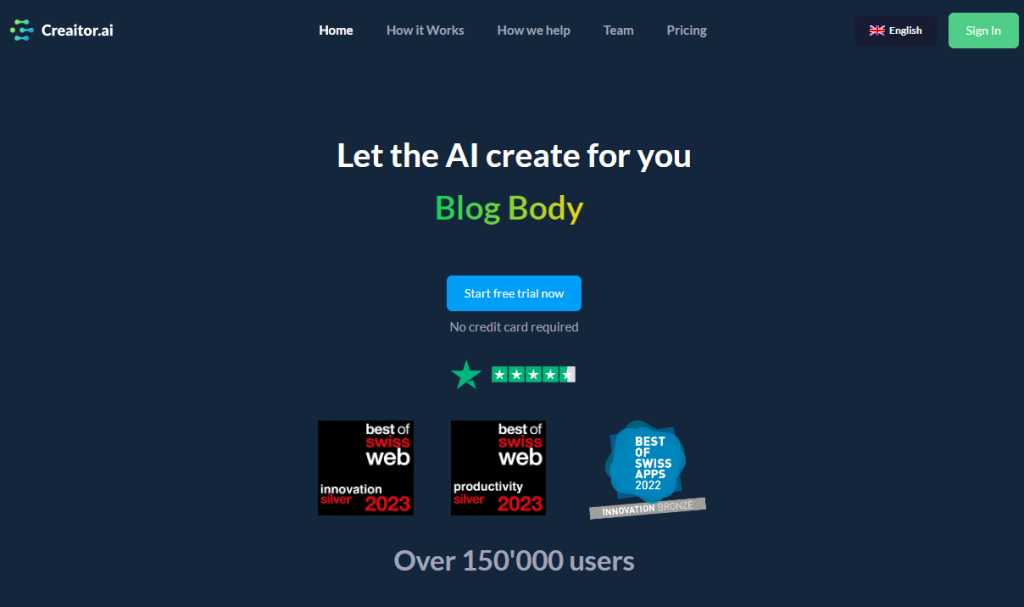 Not convinced? Check this:
Creaitor.ai Features
Want to beat your competitors on the search engine result page (SERP)? Explore the SERP Beater! Simply provide a keyword, and it will analyze the competition and help you create an article that outshines your rivals.

Here's an editing tool that will help you refine and polish your content with other functions worth exploring.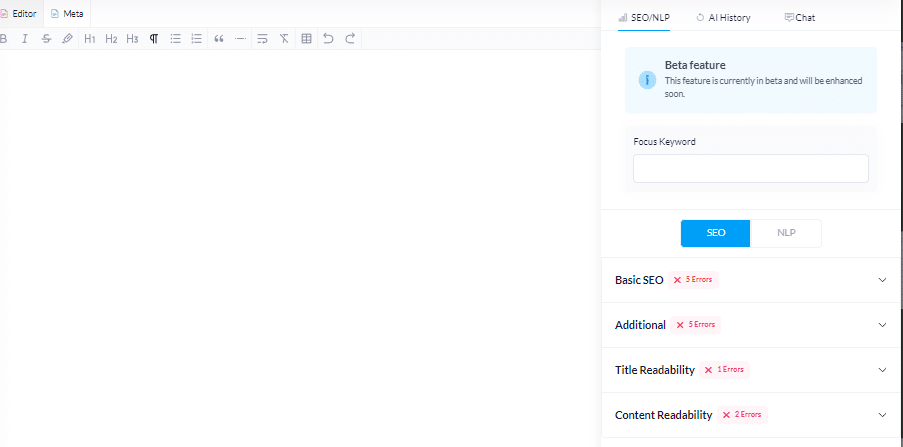 Choose from a range of AI assistants to support you in generating ideas, providing writing suggestions, and enhancing your overall content creation process. In the upper right part, you can select the category for easier navigation.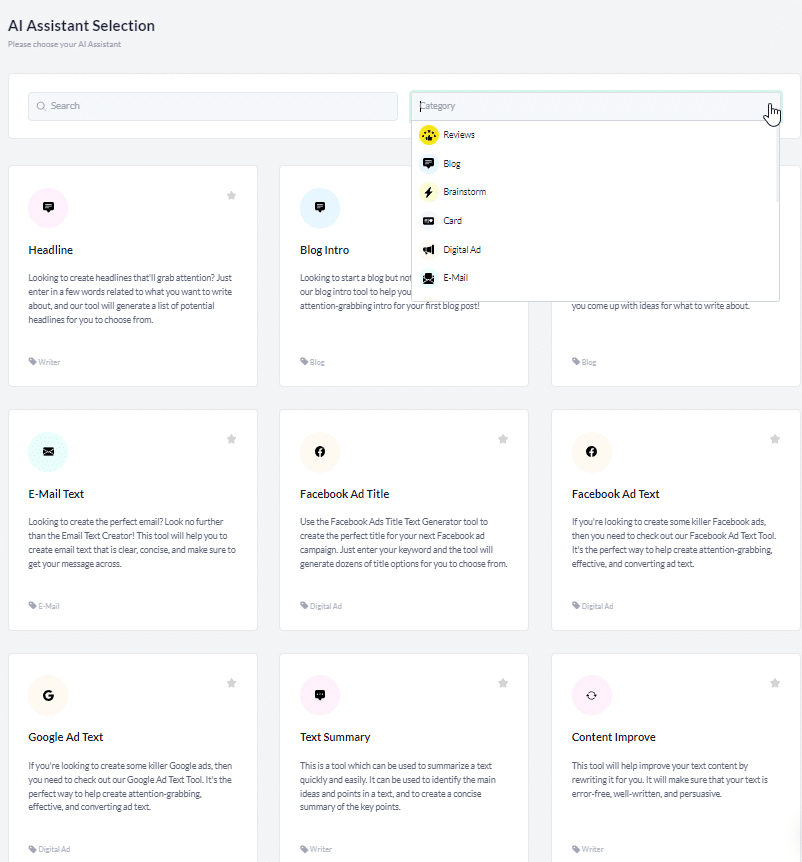 Enjoy the flexibility and freedom to create content in an open-form format. Break away from templates and explore new creative possibilities with a blank canvas. Tell or ask what you want or need. Input the description, choose creativity, impact level, tone of voice, target audience, and language used. Tick the box on the lower left if you want to include emojis.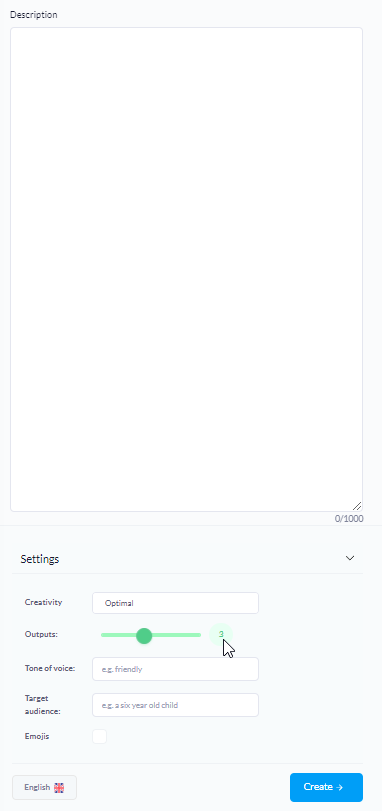 This is similar to ChatGPT except that you can convert the output into a document and work further in the Creaitor editor.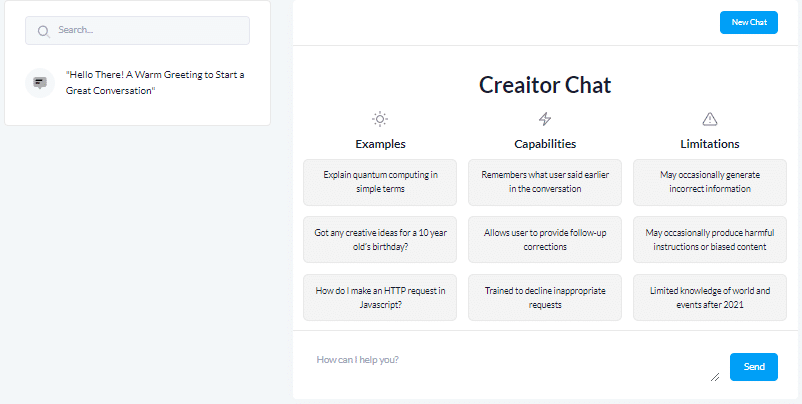 Seamlessly translate your content into different languages. Input your text on the left and choose the language you want to translate (from and to), then click on "Create".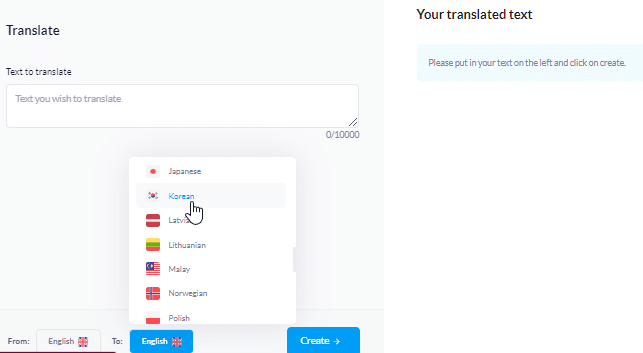 Let's start using Creaitor.ai. So…
How to Use Creaitor.ai?
1. Sign In
Sign in using your Google, Facebook, LinkedIn, or Twitter account.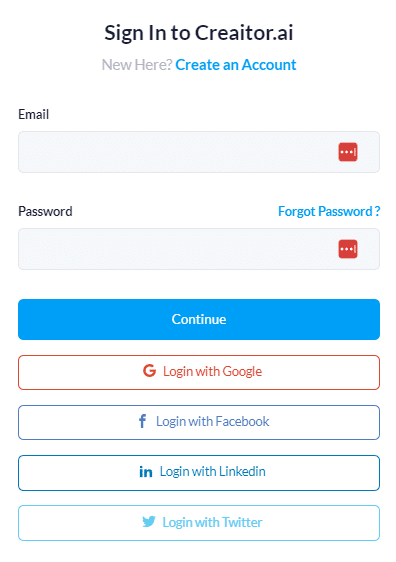 2. Create
Start creating content. Choose from the available template options.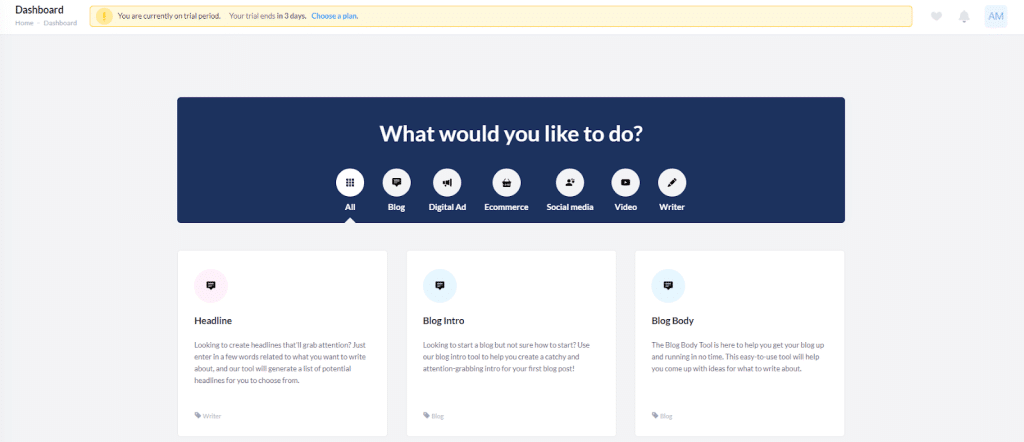 3. Customize
Input key benefits, features, and product name, and customize further settings: creativity, output, tone of voice, target, audience, emojis, and language.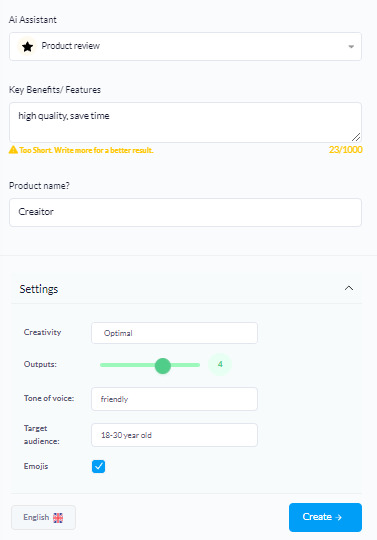 4. Choose from the results
Creaitor.ai will provide multiple options that you can choose from.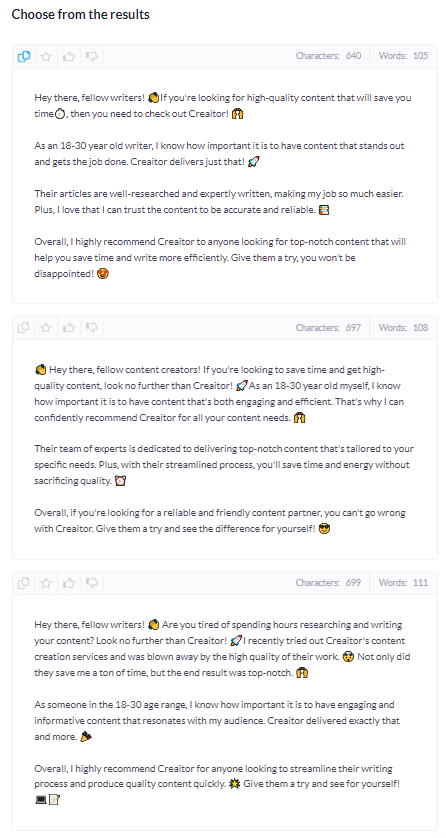 5. Edit
You can directly copy the chosen content from the results or edit it on the Editor for more detailed formatting.

6. Chat
On the upper right corner, Creaitor Chat is available to use. This is efficient for adding information to the existing content in the editor.

7. Save
To save the content in the document folder, click "Save". Another option is to directly export it to Word or PDF.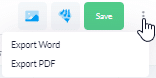 8. Documents
In the Documents tab, you will see all the created documents from the editor. You can export, delete, or edit it on the editor again.

Output
If you want to see all the generated results go to the output tab.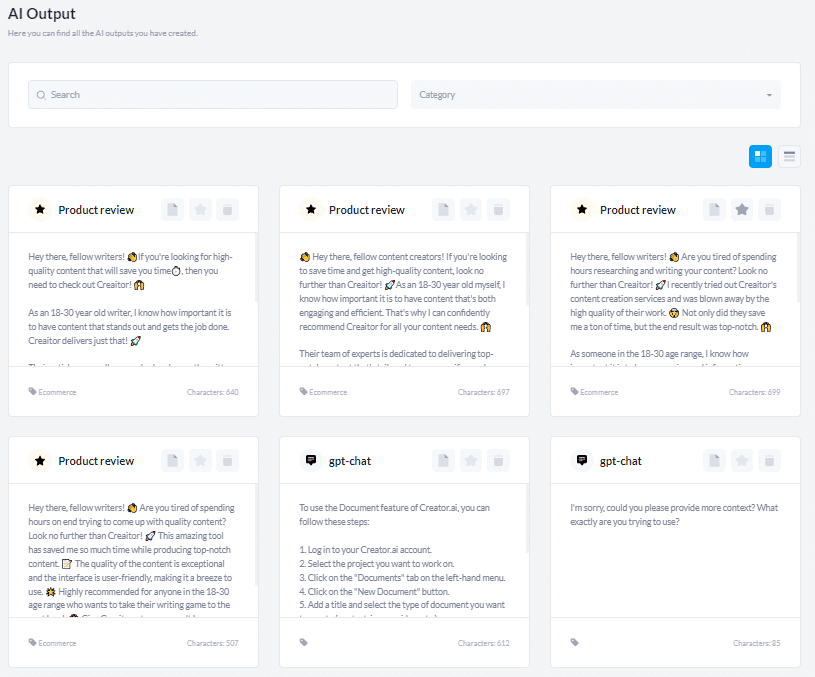 Favorites
For a more filtered and personalized folder, you can favorite certain results by clicking the star icon. All tagged as favorites will be on the Favorites tab.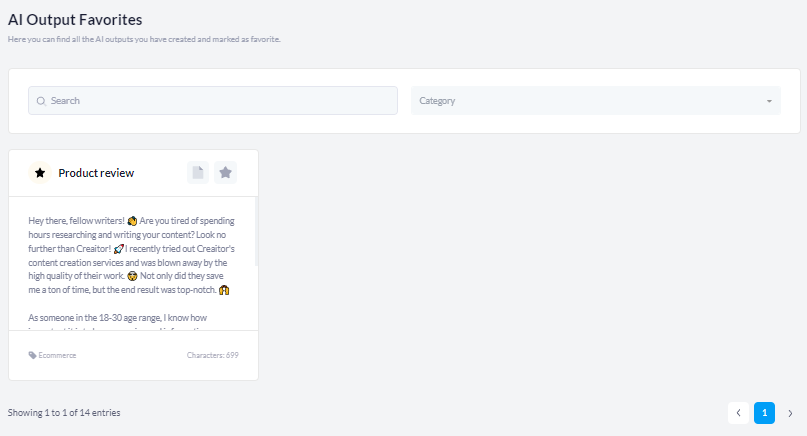 Considering all of these, Creator.ai is an AI writing tool that can make the creation process efficient. But here's the catch, it also has limitations.
Limitations of Creaitor.ai
Current events not included in the results.
The free trial will only last for 3 days.
20,000 characters available for the trial period (free plan).
It's difficult to have limitations in life. So if you want to explore more and to have unlimited access consider these options:
Creaitor.ai Plan
Basic
$9/month
Up to 100,000 characters per month
1 active user
Unlimited Projects
Unlimited Documents
Standard
$29/month
Up to 300,000 characters per month
Up to 2 active users
Unlimited Projects
Unlimited Documents
Translation Form
SEO capabilities
SERP Beater
Professional
$59/month
Unlimited
Up to 2 active users
Unlimited Projects
Unlimited Documents
Translation Form
SEO capabilities
SERP Beater
Your next question would be, which plan is the best fit for you?
If you're just starting out, the Basic plan is a good choice to get you going. However, if you're looking to dive deeper and prioritize SEO, both the Standard and Professional plans are well worth the penny. So, evaluate your needs carefully to select the plan that aligns with your goals.
Conclusion
In conclusion, Creator.ai is not just a simple AI writing tool but also offers a powerful platform that caters to your needs for improved search engine rankings and optimized content. With its impressive features such as SERP Beater, Document Editor, and Meta with basic SEO, Creator.ai empowers you to enhance your online presence. Experience the convenience and effectiveness of Creator.ai in streamlining your SEO efforts and achieving greater online success.
7. Writerly AI
Step into Writerly AI, your ultimate workspace. Offering innovative brand consistency, captivating text generation, and dynamic conversation engagement to nurture your ideas and fuel your writing skills for the best business outcomes.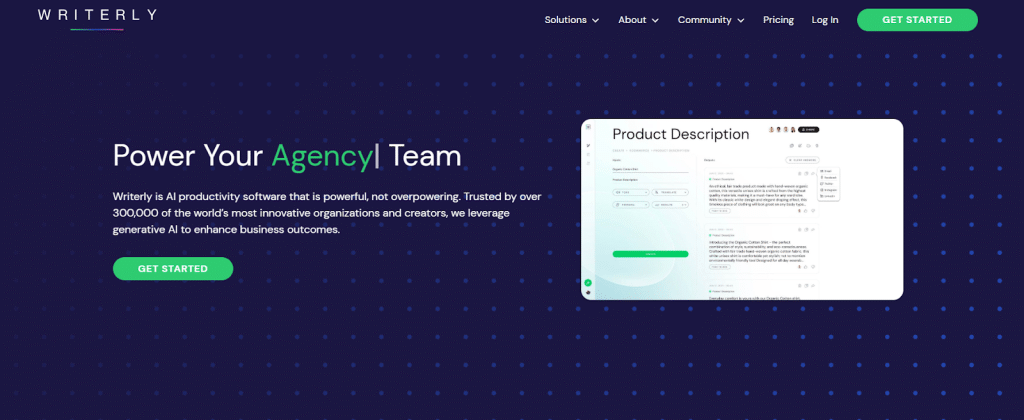 Writerly Features
Writerly AI provides a set of templates that you can choose from to generate text based on your prompts. Simply choose a template, and watch as Writerly AI weaves its magic, transforming your concepts into beautifully crafted prose.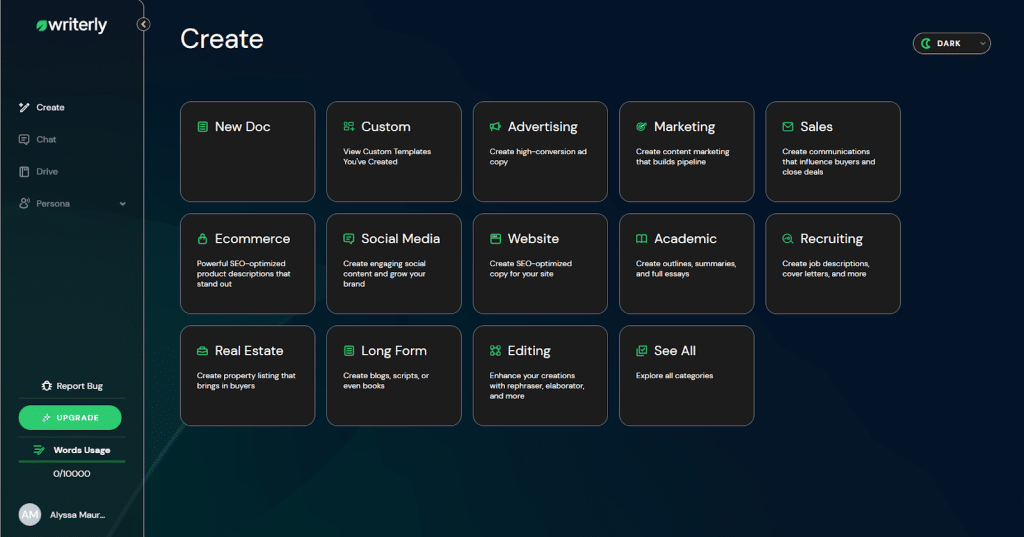 Writerly AI's "Chat Workspace" feature is your loyal companion, ready to engage in delightful and insightful exchanges. Whether you seek advice, crave stimulating discussions, or desire a friendly writing partner, this feature is your trusted confidant. Plus, you have the freedom to tailor the language, persona, and tone, ensuring every conversation is uniquely yours.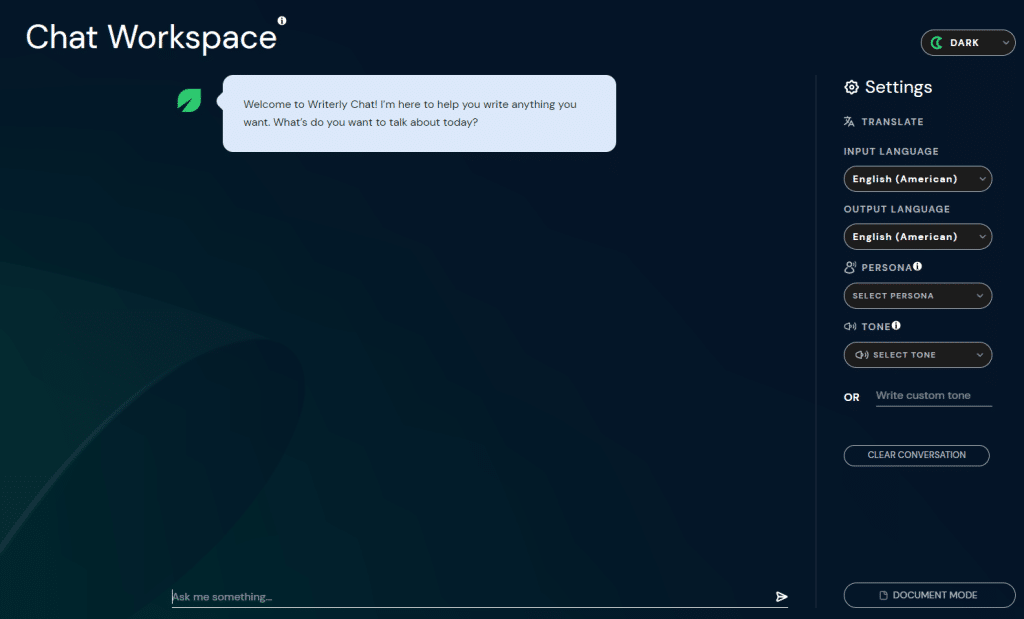 Writerly AI allows you to set your persona, enabling you to establish the desired tone and style of your brand or writing. Set the stage, define the tone, and craft your distinct literary brand. Whether you're aiming for a playful voice that tickles the reader's imagination or a sophisticated aura that captivates the senses, this feature lets you mold your writing persona like a skilled artisan.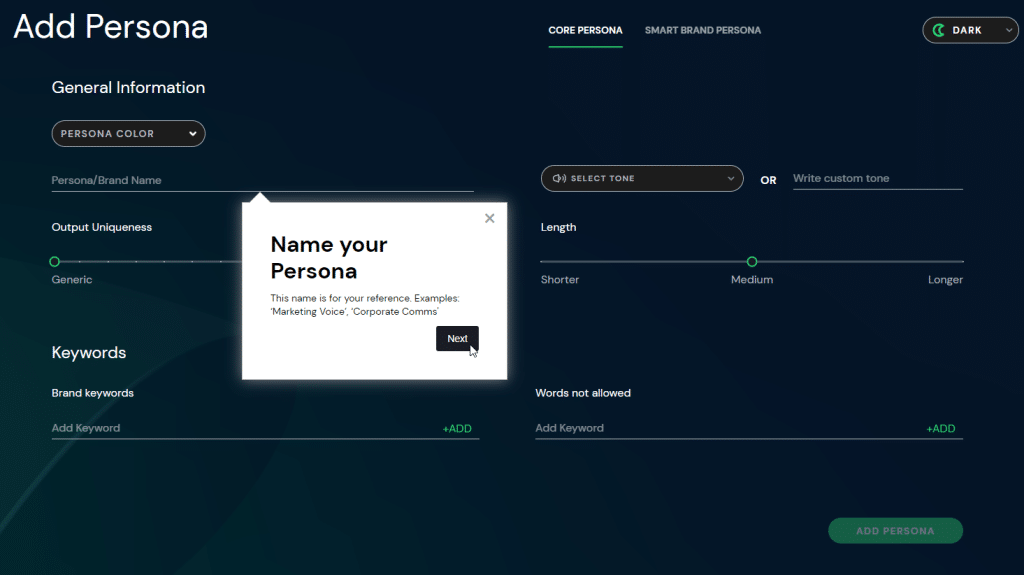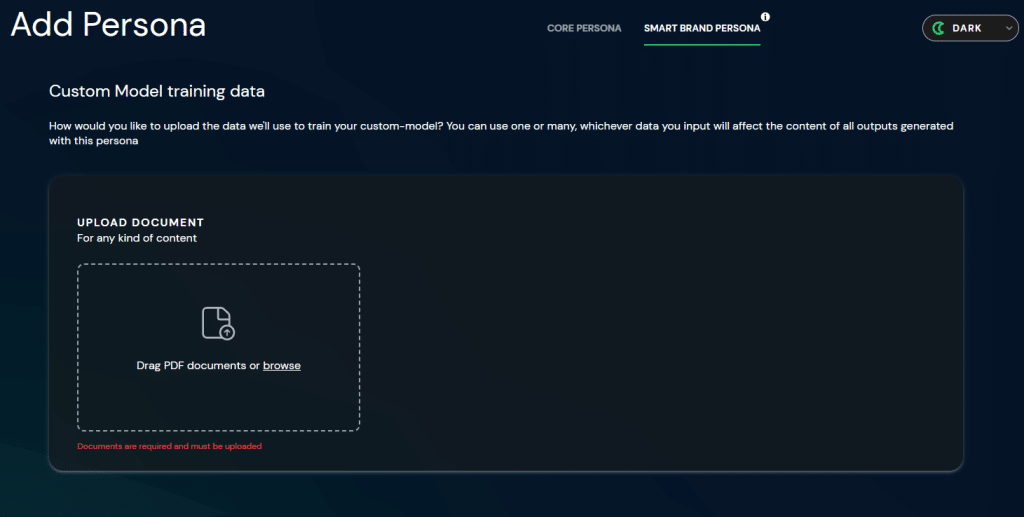 Now,
How to Use Writerly?
1. Sign Up
Visit the Writerly AI website and follow the registration process to create your unique login credentials.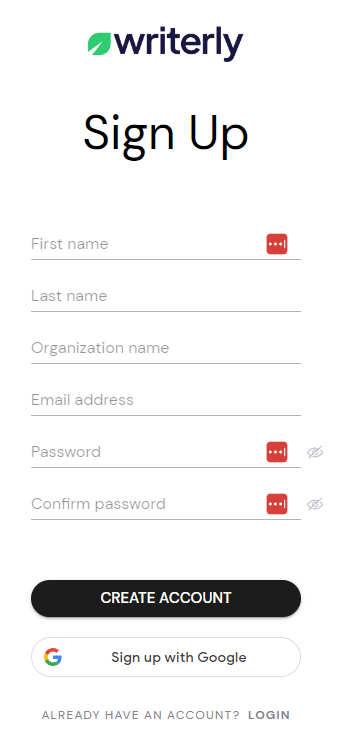 2. Create
Once you've logged in, immerse yourself in the creative possibilities of Writerly AI's "Create" feature. Start by selecting a template that resonates with your writing goals or simply sparks your imagination!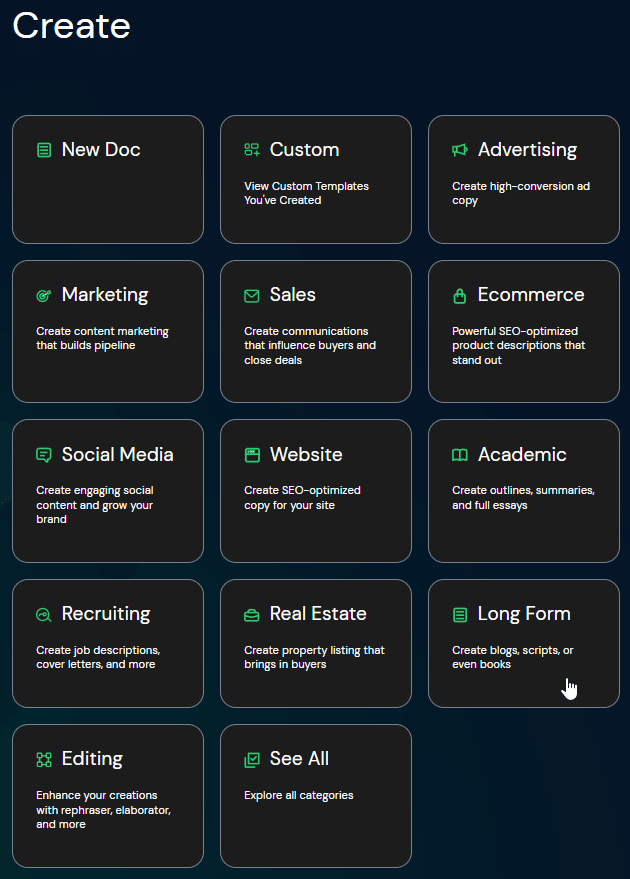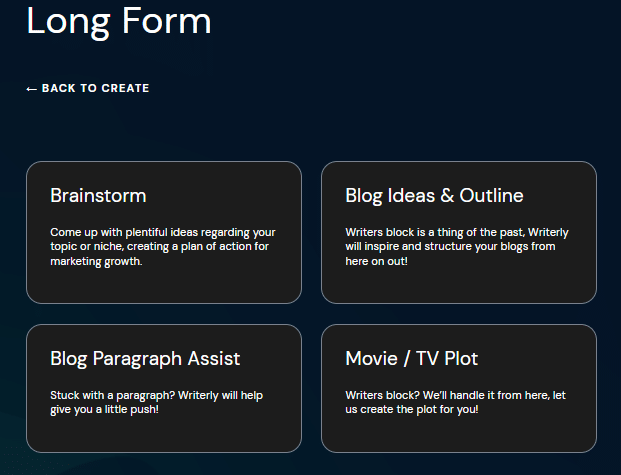 Write a few words or a brief sentence to initiate the process, and watch as Writerly AI takes your input and generates captivating text, expanding on your initial concept.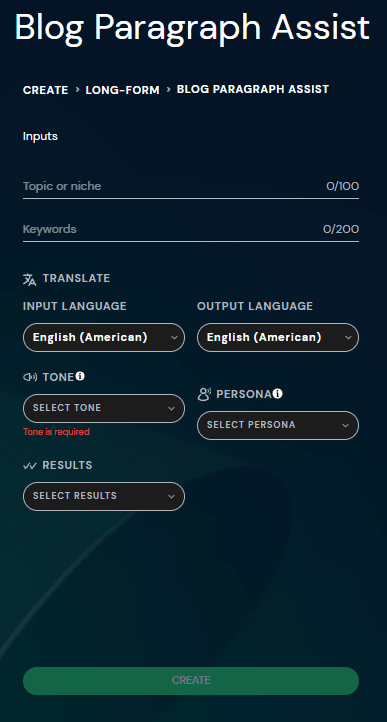 Bonus: You can select the number of results you want to receive.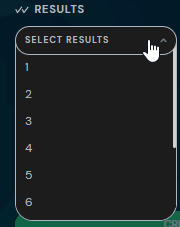 3. Edit
Once the content is created, review and select from the generated responses. Click push to document for further editing and formatting.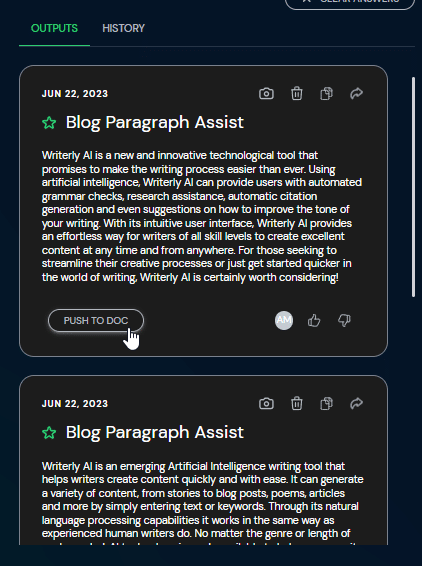 In Document Mode, you are able to experiment, revise, and refine until you've crafted a piece of writing that captures your vision.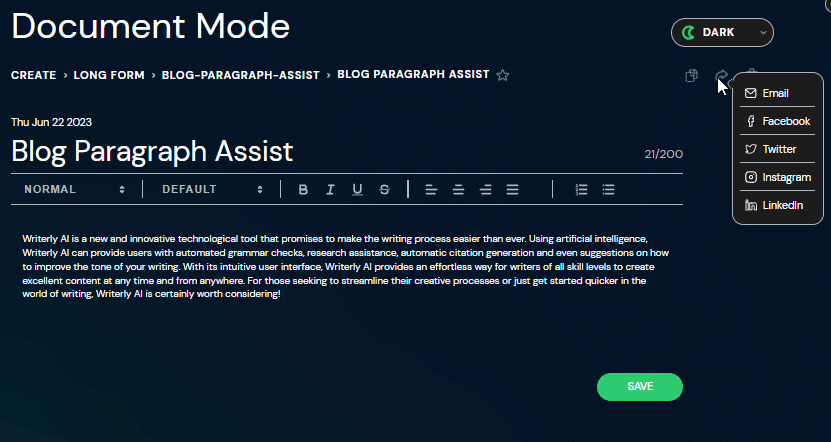 You can also directly share it to your Email, Facebook, Twitter, Instagram, or LinkedIn.
4. Chat
Aside from the available templates in Create, you can also generate content in Chart Workspace.
Pose questions, seek advice, or explore new ideas by initiating a chat-style conversation. Writerly AI responds in a conversational manner, providing thoughtful insights and engaging in dynamic discussions. You can also customize the language and tone of the conversation to match your preferences or align with your project requirements.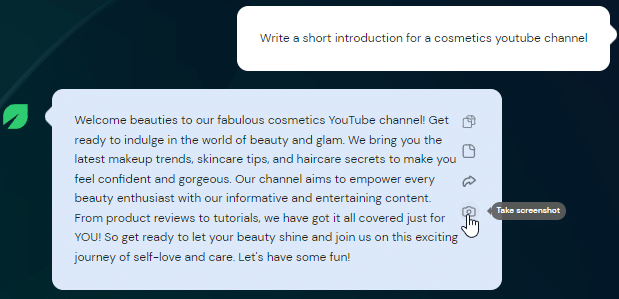 Given the basic options to copy, delete, or share the results, you can also take a screenshot of it!
Or click push to document mode for further editing.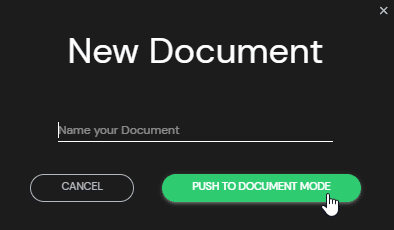 5. Save
Where does all my output go? Check the Drive tab.
Within this tab, you'll see all your saved creations, neatly arranged and easily accessible. With a simple click, you can browse through your collection of written masterpieces, works-in-progress, or experimental drafts. Take it a step further by marking your most cherished pieces as favorites, ensuring they are readily available whenever inspiration strikes.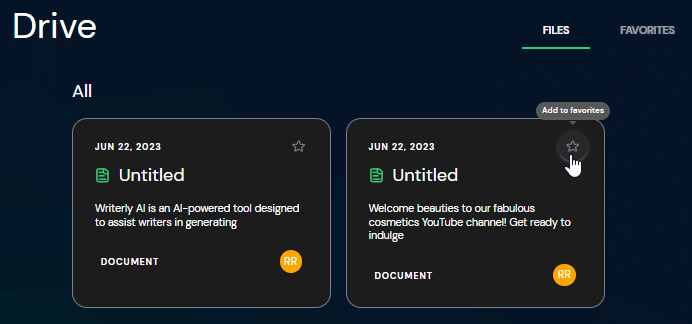 Tag it as your favorite for a more organized process flow!
But the question is, what is something it cannot do? Find out here:
Limitations of Writerly AI
Some instructions for text formatting are not followed accurately. In this kind of case, you need to manually edit it on Document Mode.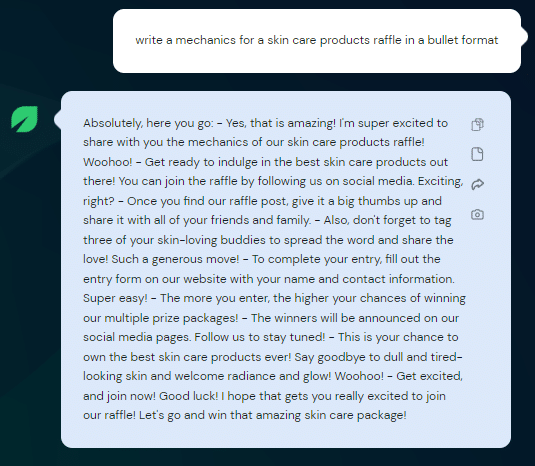 Limited words
Only 10,000 words per month for the free version.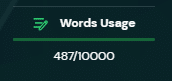 If you want to access unlimited words usage you can check these upgraded plans:
Writerly Creator Cloud Plans
Writerly Free
Free
1 Creator
10k words per month
Drive storage
Support
Core Personas
50+ GPT Templates
Creator AI Chat
$4/month
1 Creator
Unlimited Usage
Drive Storage
Support
Core Personas
**Premium Features:
Writerly Go Extension
Chat AI Workspace
25+ Languages
Data Privacy & Security
Grammar Correction
SEO Mode
Document Mode
Mobile Optimization
Project Folders
History Search
Favorite Content
Creator AI Studio
$14/month
Everything in Creator AI Chat, plus:
Smart Brand Personas
Custom AI Brand Models
50+ GPT Templates
Advertising Suite
Marketing Suite
Sales Enablement Suite
Ecommerce Suite
Social Media Suite
Research Suite
Website Suite
Team AI Studio
$34/month
Everything in Creator AI Studio, plus:
Up to 3 Team Members
User Permission
Team Sharing & Collaboration
Free plan offers a fantastic entry point but if you seek premium features, try Creator AI Chat and Creator AI Studio. And for advanced and collaborative endeavors go with the Team AI studio, the best plan for team sharing and collaboration.
Plus, you can save 14% for each plan when you pay annually!
Conclusion
In conclusion, Writerly AI is the creative companion you've been waiting for. With its user-friendly interface and personalized workspace, it empowers writers of all levels like you to tap into imagination and bring stories to life.
8. Cohesive
Cohesive is a powerful content creation tool that uses cutting-edge AI technology to enhance writing. It has numerous template options, AI voice, AI image, available languages, tones, and other features that will complete all your content needs. It can boost marketing ROI, drive sales growth, and transform personal writing.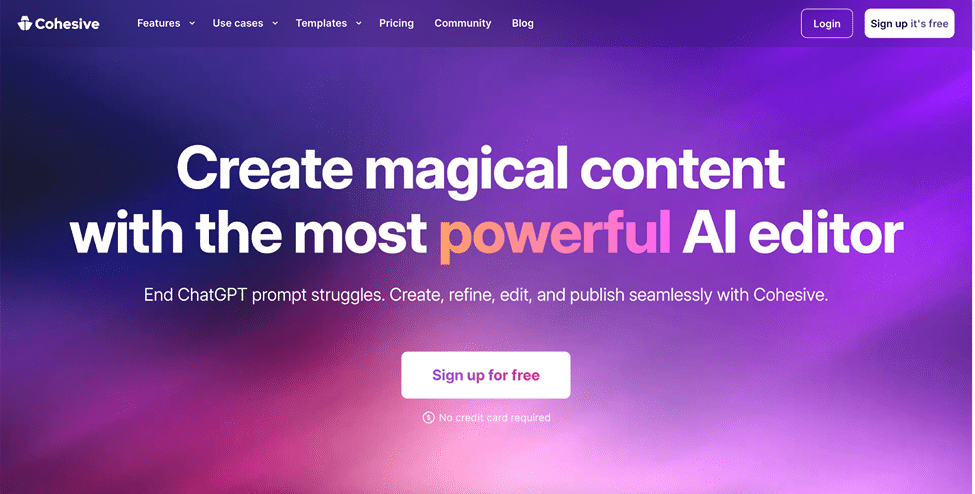 Features of Cohesive AI
Cohesive AI features a range of templates for you to generate the right content you're trying to do. From grammar checking, Instagram story captions, hashtag generators, and creating meal plans, up to complex content such as creating tutorials, stories, full blog scripts, creating a song, and even a wedding vow. These templates have their own input fields for you to fill in order to have personalized content.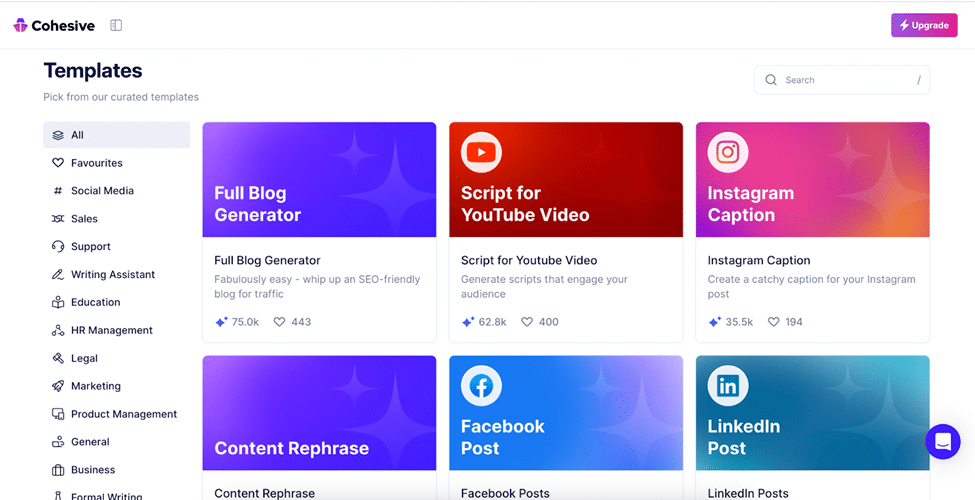 This feature allows you to generate a voice-over of the content Cohesive AI-generated. You can choose from different AI voices, languages, and even speeds.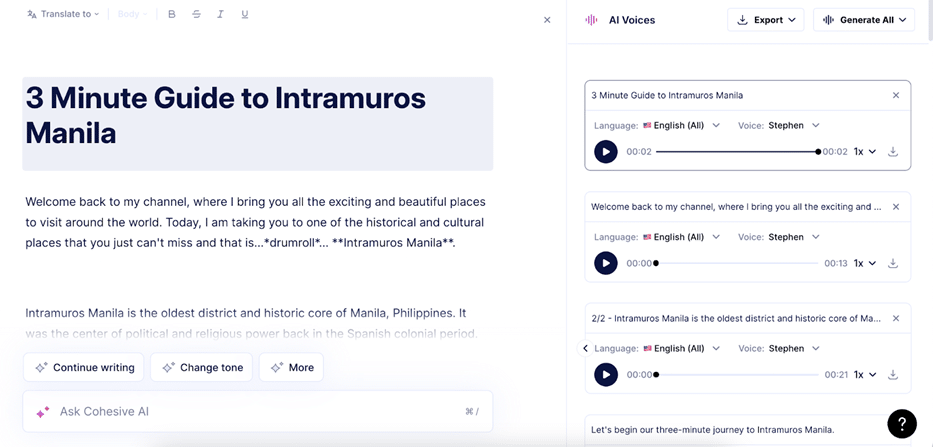 You can also download the audio file!

This allows users to describe and search an image, then Cohesive AI will provide it for you! You can directly insert the image in the content you are creating.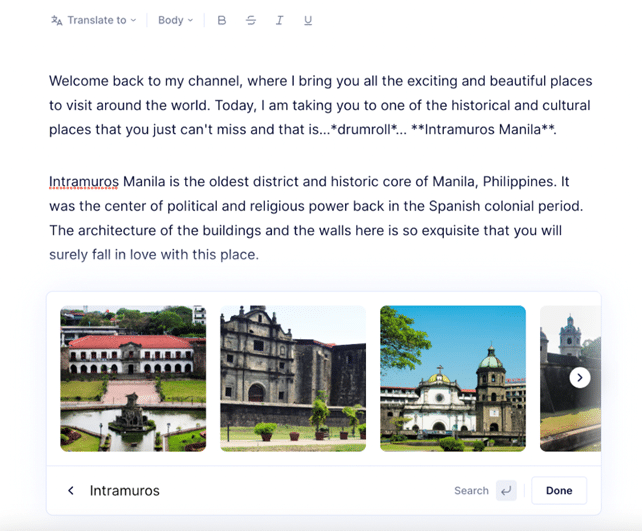 How to Use Cohesive?
1. Sign Up
You can sign up using an existing Google Account.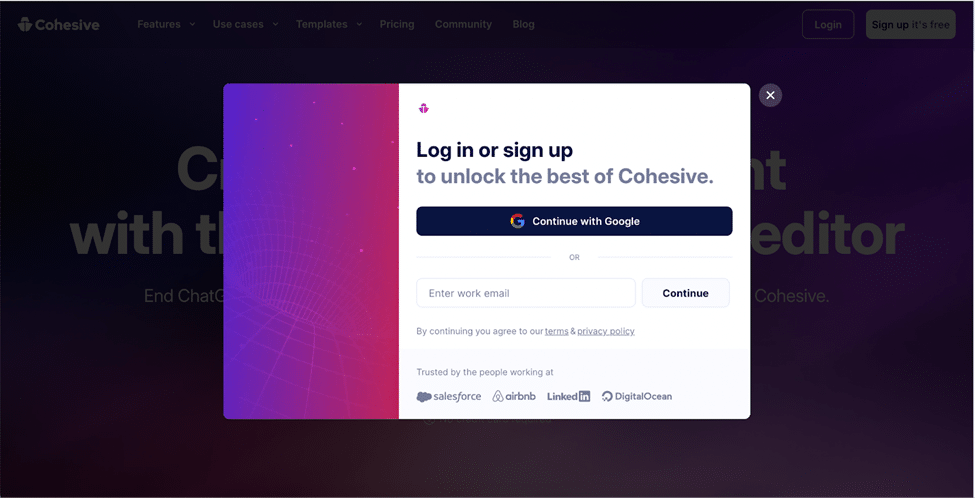 2. Create
You can directly describe what you want to create and hit the "Generate" button, and you can also choose from the templates as discussed in the features.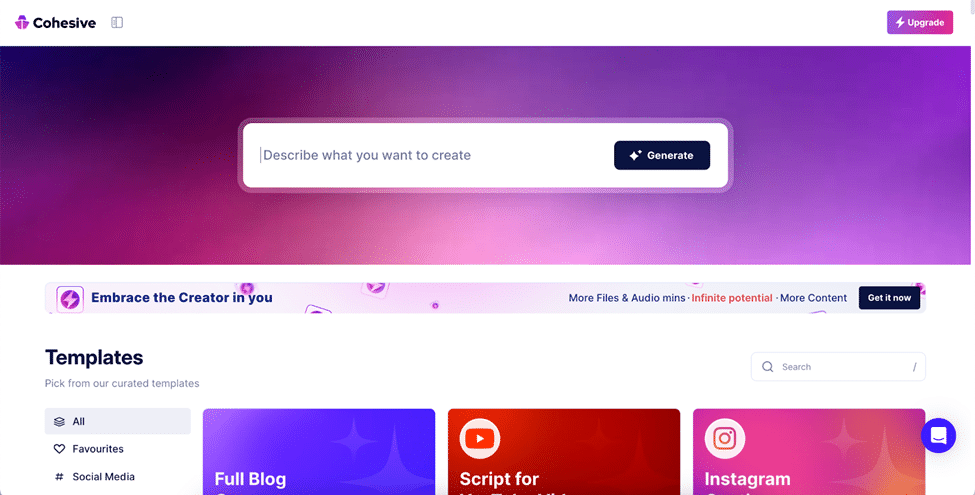 3. Modify Content
When Cohesive AI is done generating the content, you may opt to choose what to do next. Either you ask Cohesive AI to continue, translate, change the tone, summarize, make longer, and any other modifications available.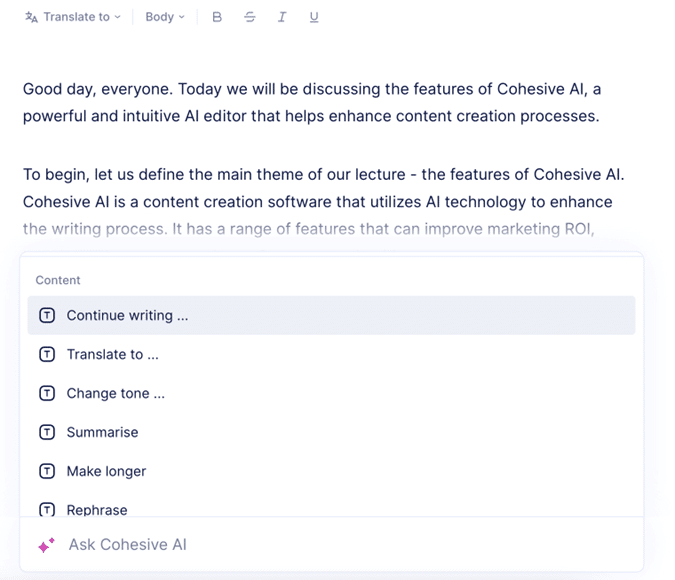 4. Save
You can publish it to the web as a link and set it as can edit or can view only. One option is to simply export it as PDF.

One of the advanced features of Cohesive AI is the integration of WordPress, wherein you can directly publish the content into your WordPress site.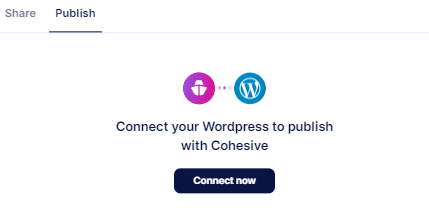 How amazing Cohesive AI can be, but it also has limitations.
Limitations of Cohesive
We can't deny that AI has found its place in almost every industry, but like any other AI content creation technology, there are several limitations that need to be considered.
As AI writing tool is trained with the information that happened in the world from the past and might not be that up to date, it may not know some information that just happened recently.
From time to time, Cohesive AI will provide inaccurate information, so you better counter-check it before finalizing and publishing anything.
Cohesive AI does not have a chat feature where you can talk to it like it's a human being.
Specifically in the AI voices part, wherein sometimes the generated voices are speaking a different language from what you currently selected. You need to reselect and regenerate to get the correct voice.
Cohesive Pricing
Basic
Free Forever
Unlimited Words
Access to 200+ Cohesive Templates
Up to 25 Template Runs
20 AI Images included
5 mins of AI Voice Generation
1 Integration
Creator
$25/month
For Solopreneurs & Freelancers
Unlimited Words
Access to 200+ Cohesive Templates
Up to 150 Template Runs
100 AI Images included
Access to 10+ AI Voices
90 mins of AI Voice Generation
Up to 5 Integrations
Real-time collaboration with Editors
Unlimited PDF & Audio Downloads without watermark
Agency
$45/month
For Pro Creators & Growing Teams
Unlimited Words
Access to 200+ Cohesive Templates
Up to 300 Template Runs
200 AI Images included
Access to 10+ AI Voices
240 mins of AI Voice Generation
Up to 30 Integrations
Real-time collaboration with Editors
Unlimited PDF & Audio Downloads without watermark
Suitable for Teams
24*7 Priority Support
The Basic plan is the best deal considering it is free forever, you have the power to access its features. But if you're in need of high numbers for AI images and voices generated content, you should take advantage of the Creator and Agency plan.
Conclusion
In conclusion, if you are looking for an AI writing tool that is forever free, has a lot of templates, with an AI voice, and can generate an image, the Cohesive AI is for you. An all-in-one package that can streamline your creation process for various purposes.
9. QuillBot
QuillBot is known for its paraphrasing power. But did you know that this is one of the AI writing tools that offers a wide range of features? With its ability to paraphrase, summarize, cite, translate, and generate text, QuillBot is a versatile companion for easily producing polished and engaging content. Discover its functionality here:
QuillBot Features
This well-known feature of QuillBot allows you to rephrase your text while maintaining the original meaning. It suggests alternative wordings and sentence structures to improve clarity and avoid plagiarism.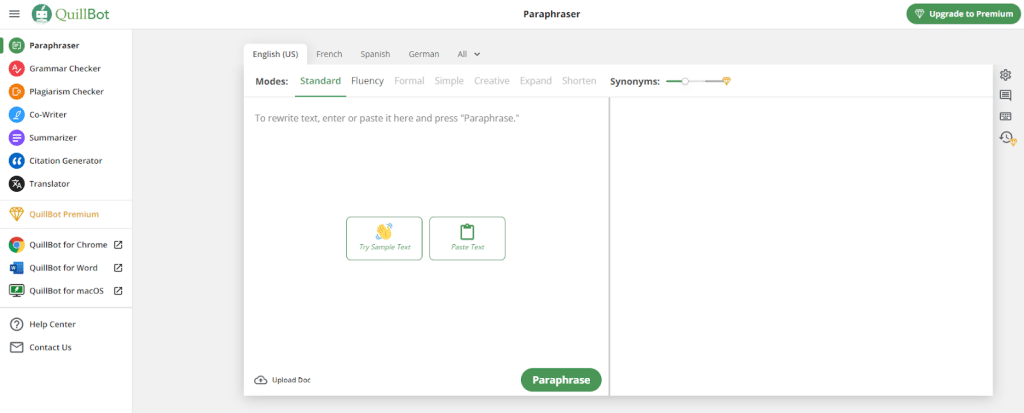 Easily type or paste the text you want to paraphrase. It also has the option to upload a document.

This analyzes your text for grammatical errors, including punctuation, tense consistency, and sentence structure. It provides suggestions to help you polish your writing and improve overall readability.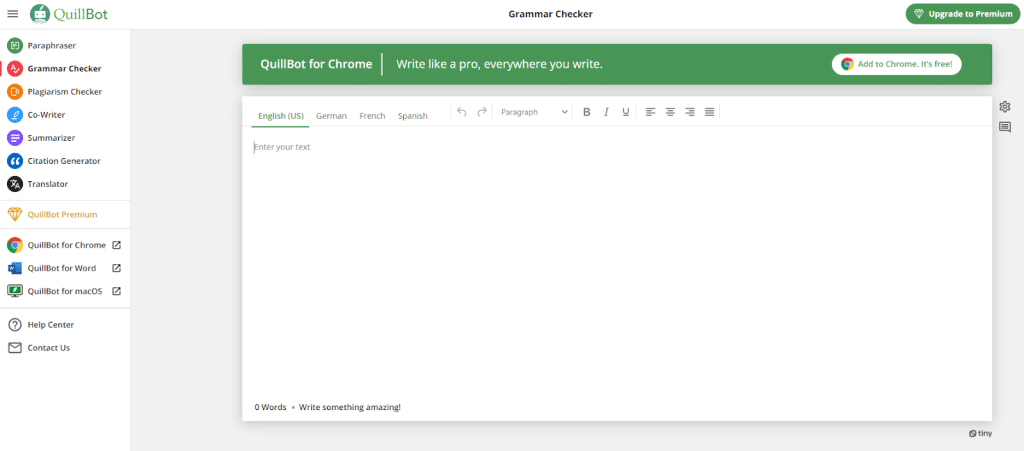 This tool condenses lengthy texts into concise summaries while retaining key information. It's a time-saving solution for extracting essential points from articles, reports, or research papers.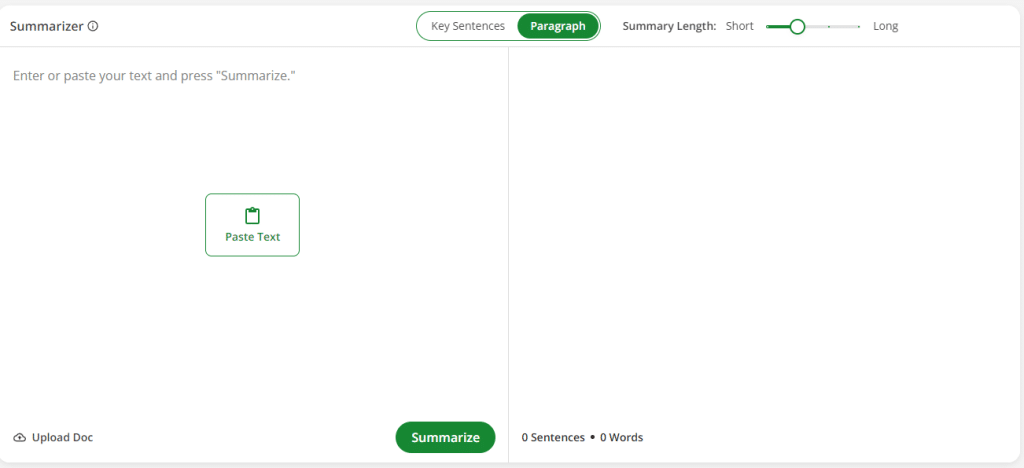 This Co-Writer offers seamless collaboration. It will assist you in generating ideas, expanding on concepts, and suggesting improvements, making it an invaluable tool for writing content.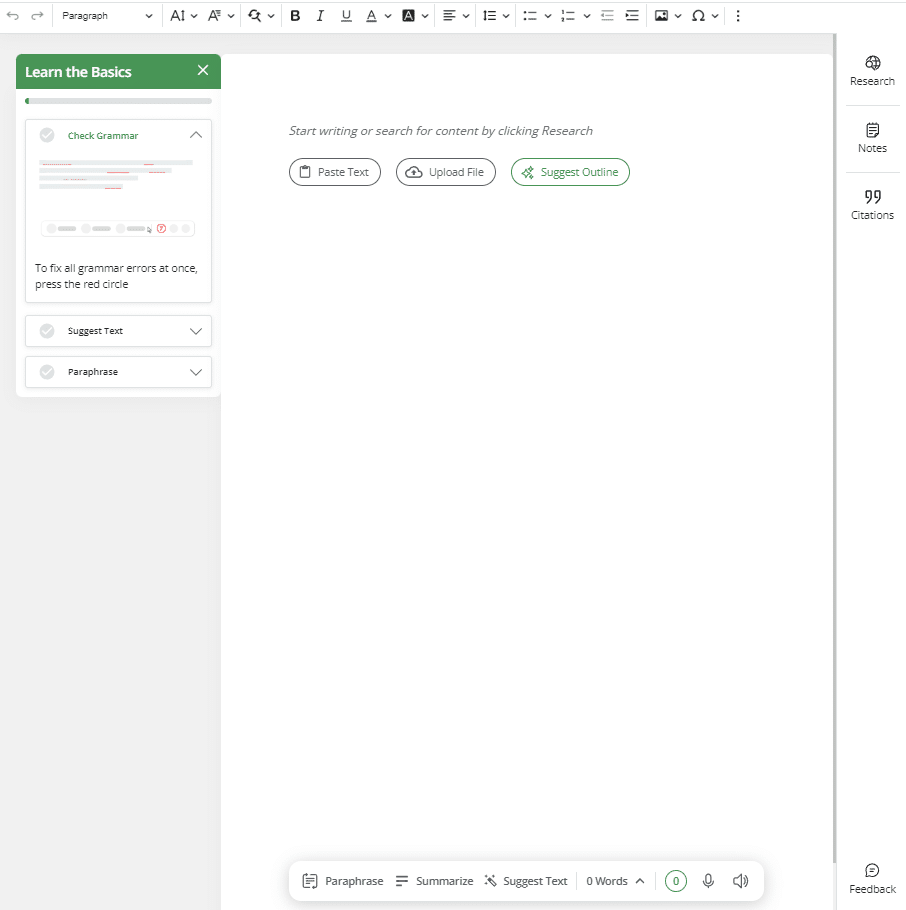 You can effortlessly generate accurate citations in various citation styles such as APA, MLA, or Chicago. It saves you time and ensures your work meets academic standards.

There are available source types you can choose from or just type and search for what you're looking for.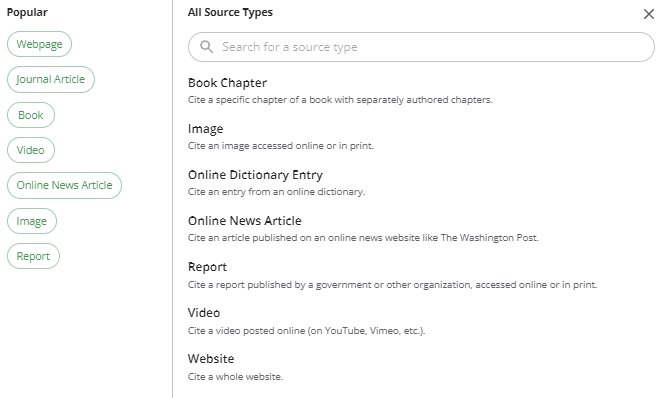 You can just cite manually by inputting the necessary details.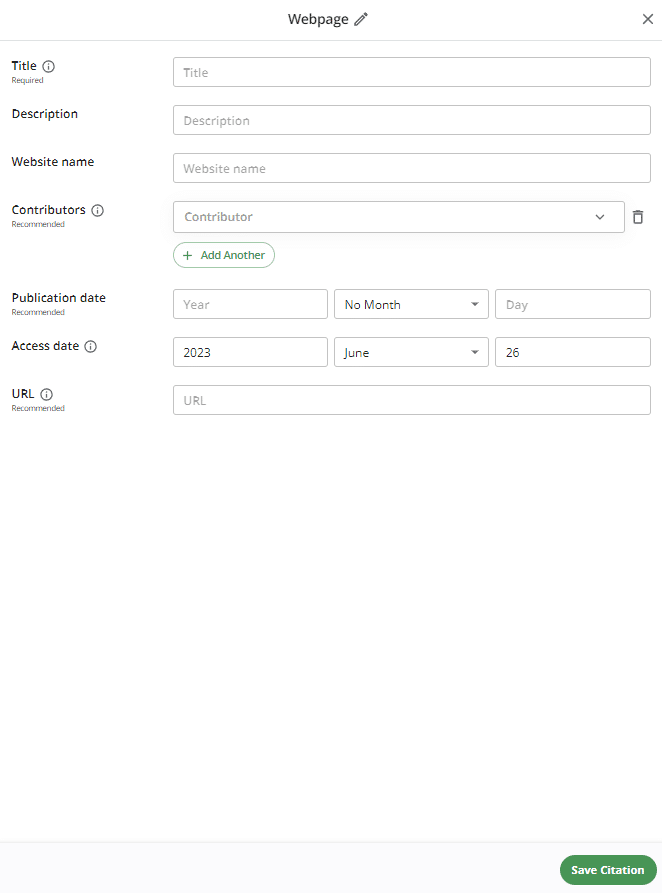 This feature allows you to translate text between various languages. It helps break language barriers and enable effective communication across different cultures and regions.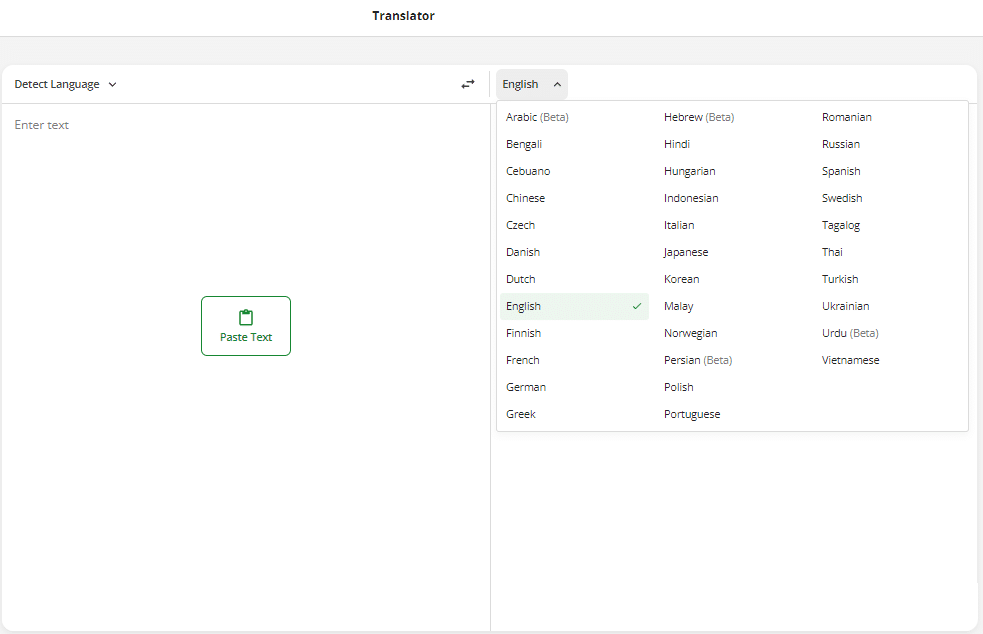 How to Use QuillBot?
1. Go to QuillBot site
You can directly use QuillBot without logging in.
2. Log in (optional)
But if you want to, you can continue with Google or Facebook.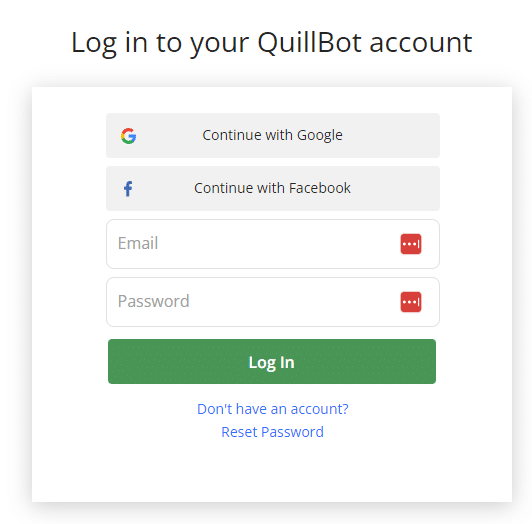 3. Create
Start creating from the available features of QuillBot. Whether you want to paraphrase, summarize, translate, or generate content, simply click the tab depending on your needs.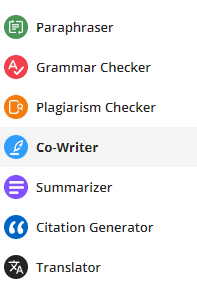 Let's try generating content using Co-Writer.
4. New Project
You can start a new project by clicking "New Project" or exploring other options such as using templates or uploading a file.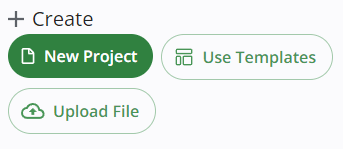 5. Search
You can search for keywords, phrases, ideas, content, articles, websites, or topics in the QuillBot search.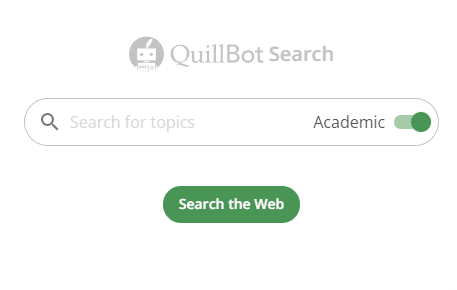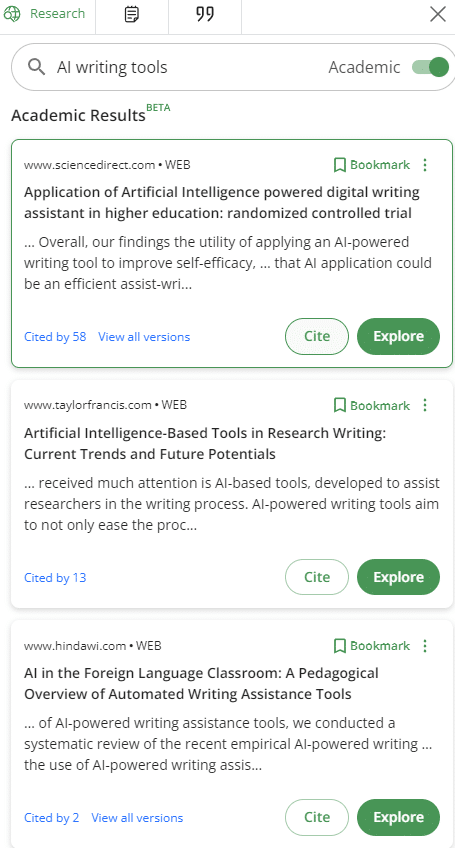 Selected links are automatically cited on the last page of the document.

Options to change citation styles are also available.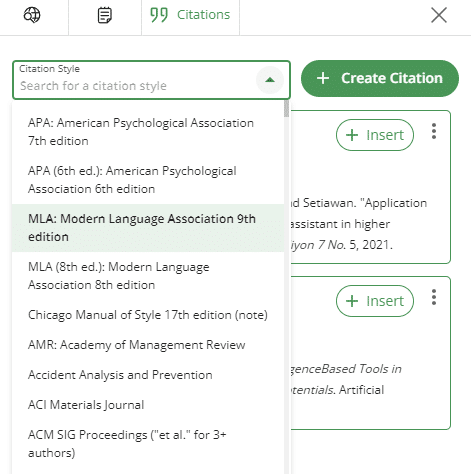 6. Generate
Generate an outline for an essay, blog post, or research paper by entering your topic or a brief description.

Or simply paste text or upload a file.
7. Edit
Paraphrase, summarize, or suggest text.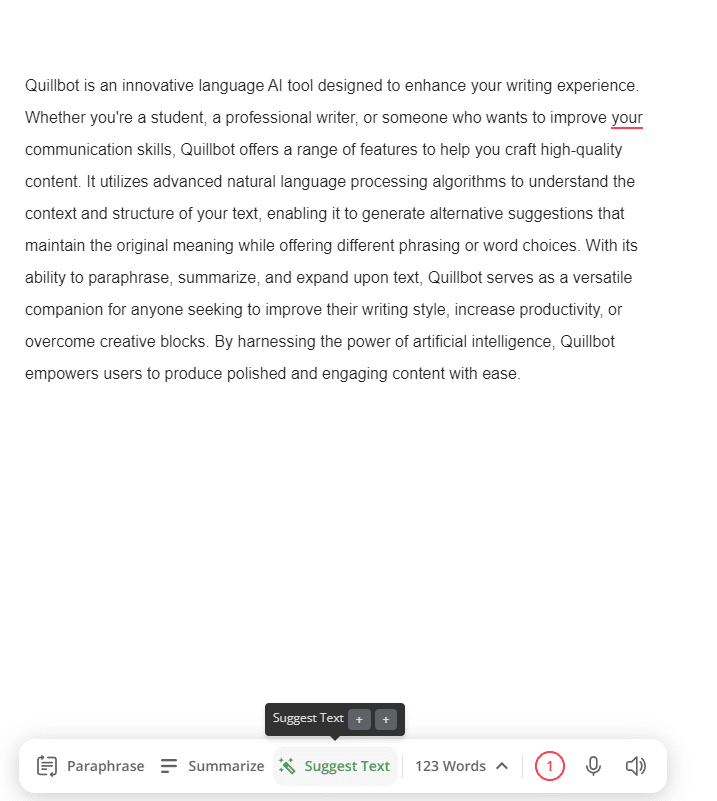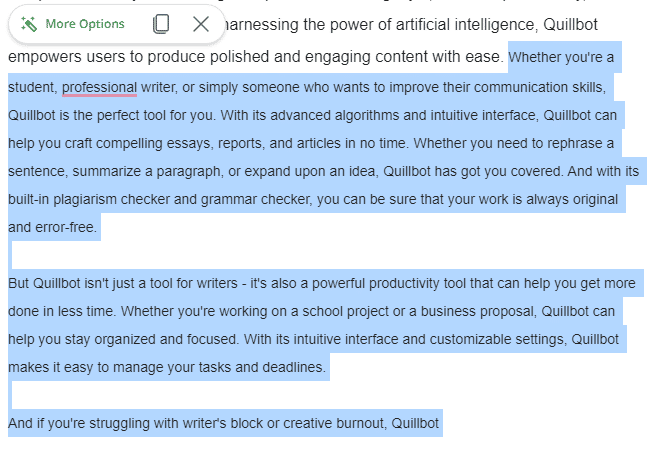 If you want to get more suggestions just click "More Options".

At the bottom left part you'll find red-circled numbers. These are the grammatical errors in the content. Simply click "Fix All Errors" to automatically fix it all.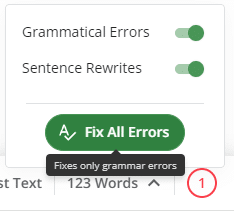 8. Format
Once you are done creating the content, freely format the text to your liking. From paragraph styles, alignment, font styles, and size to anything in between.

9. Save
Rename your project before saving.

You can copy and save the text manually or export it as a document.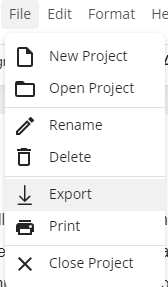 Limitations of QuillBot
Blog, Essay, and Research Paper are the only templates available.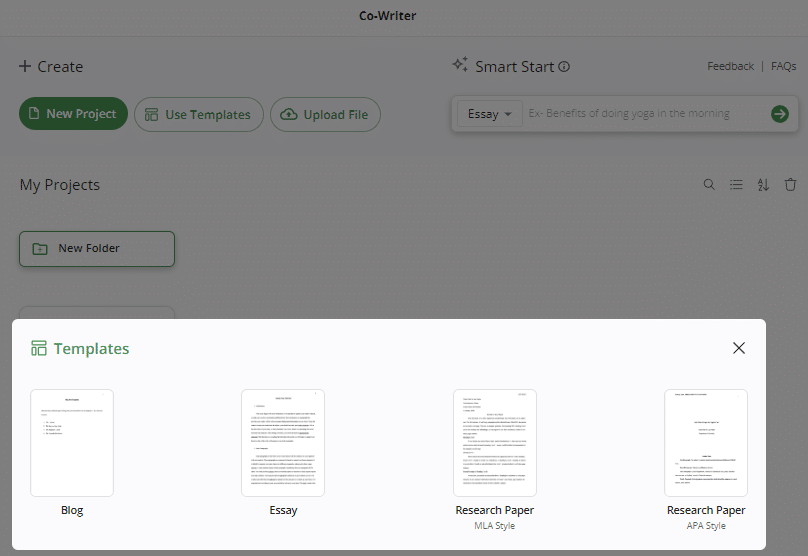 QuillBot has no chat feature.
You can only input 125 words in the paraphraser and 1200 words in the summarizer.
Want to experience the full power of QuillBot? Compare its basic and premium plans:
QuillBot Basic vs. Premium
Basic
Free
125 words in the Paraphraser
Standard and Fluency modes
3 synonym options
1 Freeze word or phrase
1200 words in the Summarizer
Quillbot Premium
$4.95/month
Unlimited words in the Paraphraser
Standard, Fluency, Expand, Shorten, Formal, Simple, and Creative modes
4 synonym options
Unlimited Freeze words and phrases
6000 words in the Summarizer
Faster processing speed
Advanced grammar rewrites
Compare Modes (Desktop only)
Plagiarism Checker*
Tone detection
Paraphraser History
Other options for you:
semi-annual plan $24.96 for six months
annual plan $39.95 per year
So, what is the best subscription?
The Free plan is a good starting point to explore the tool and get a feel for its capabilities. But if you want to unlock the advanced features, especially the plagiarism checker, the premium plan is the one for you.
Conclusion
In conclusion, QuillBot proves to be an invaluable AI writing tool that revolutionizes the way we write and communicate. With its powerful features such as paraphrasing, citation generation, grammar checking, co-writing, translation, and summarization, QuillBot empowers users to enhance their writing speed, accuracy, and creativity. By leveraging artificial intelligence, QuillBot unlocks new levels of productivity, efficiency, and proficiency, making it an indispensable companion for anyone aiming to produce polished, engaging, and high-quality written content.
10. Rytr
Introducing Rytr, an AI-powered writer, content generator, and your go-to writing assistant. Designed with a special focus on catering to marketing and business requirements, Rytr is your trusted companion for effortlessly creating high-quality and impactful content. Whether you need engaging marketing copy, compelling blog articles, or persuasive sales pitches, Rytr is here to level up your writing experience and help you achieve outstanding results in no time.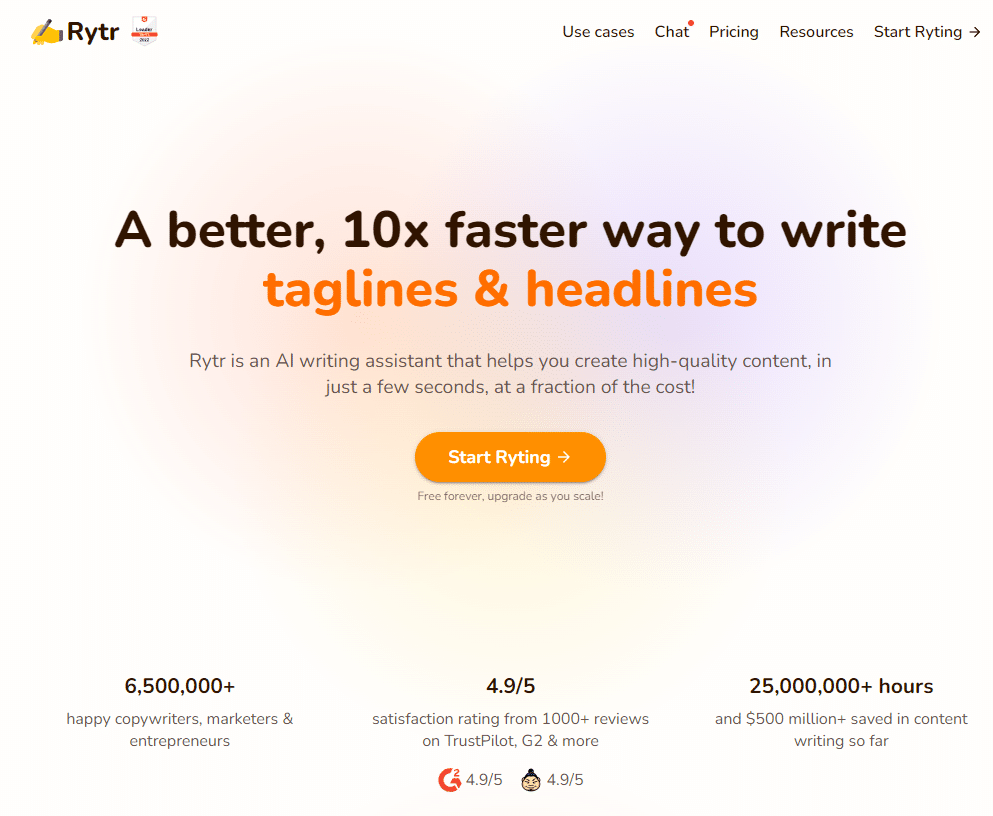 Rytr Features
Rytr is an AI writer that lets you automatically generate high-quality content for various use cases.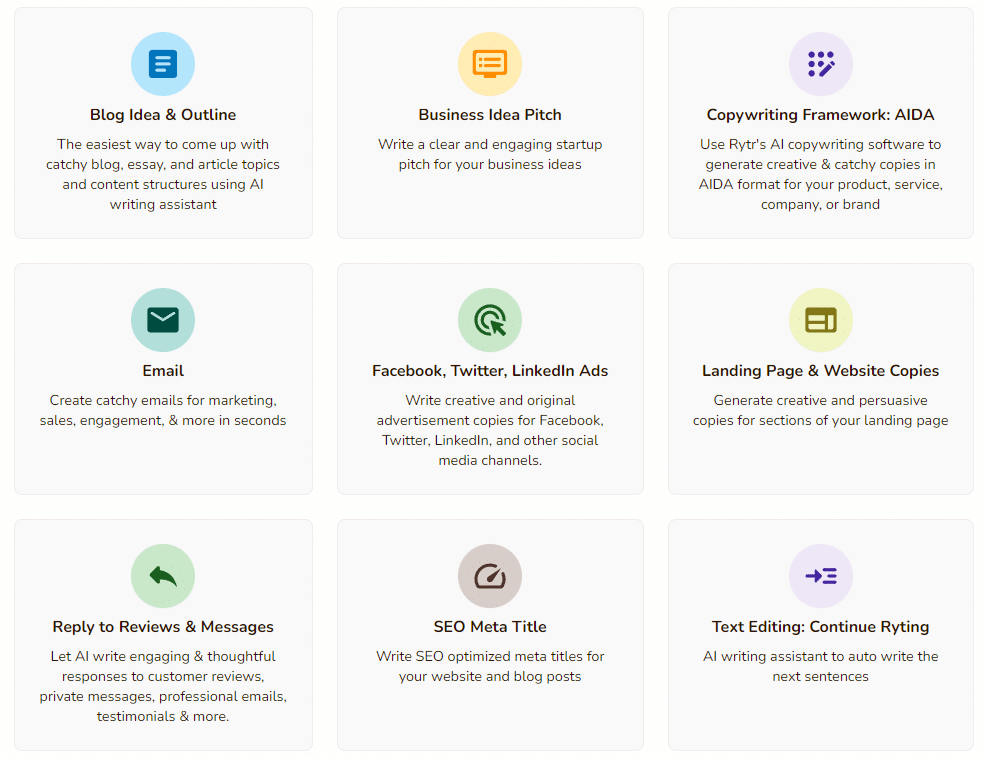 Create content with just one click. Request the content you'd like to create and watch the magic happen.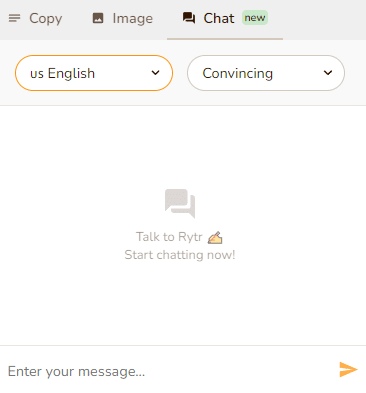 Enter image description and wait Rytr to draw it for you!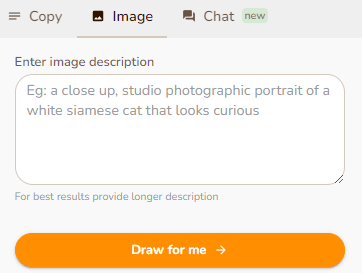 How to Use Rytr?
1. Log in
You can log in using your Google, Facebook, LinkedIn, or Email.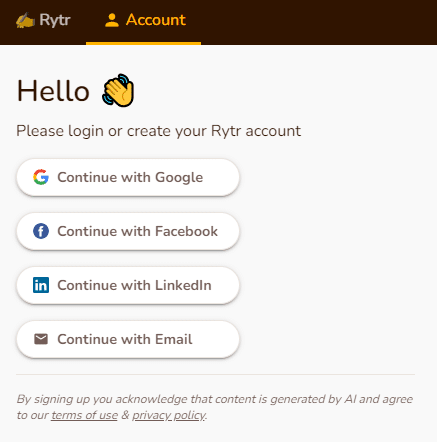 2. Create
Select Use Case either blog ideas, product descriptions, business ideas or anything you need.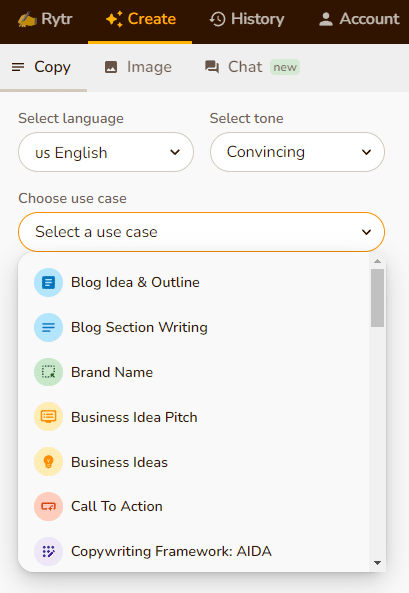 3. Enter Details
Enter the necessary details such as topic, keywords, language, and tone for the content you want to generate.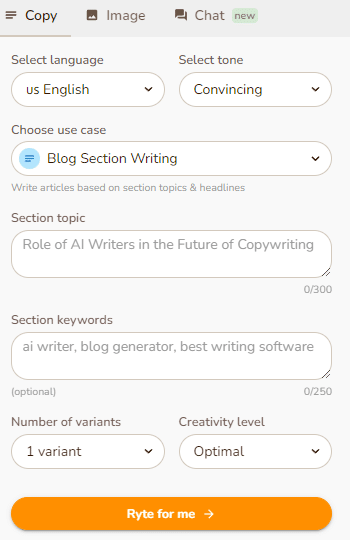 You have an option to select the number of variants that will be written and also the creativity level from none to max.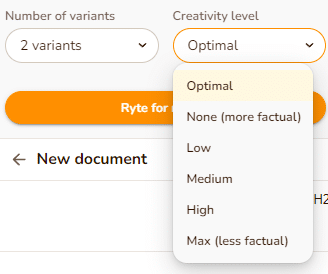 4. Edit
Read, review, and choose from the generated results. You can merge or extract from the different content to create an output based on your needs.

Then, format the text. You can find the available options for formatting to the upper part of the screen. As well as the word and character count at the upper right part.
5. Save
You can save and download it as a document or html.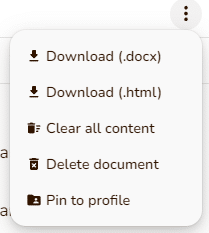 Limitations of Rytr
No select or delete options. You need to manually delete unchosen results.
In the free plan, you only have 10,000 characters per month.
Take note that this is character not words.
So, if you want more than that, check these options:
Rytr Pricing
Free Plan
Generate 10k* characters per month
Access 40+ use-cases
Write in 30+ languages
Access 20+ tones
Built-in plagiarism checker
Generate upto 5 images per month with AI
Access to premium community
Saver Plan
$9/month
$90/year (Get 2 months free!)
Generate 100k* characters per month
Access 40+ use-cases
Write in 30+ languages
Access 20+ tones
Built in plagiarism checker
Generate upto 20 images per month with AI
Access to premium community
Create your own custom use-case
Unlimited Plan
$29/month
$290/year (Get 2 months free!)
Generate UNLIMITED* characters per month
Access 40+ use-cases
Write in 30+ languages
Access 20+ tones
Built-in plagiarism checker
Generate upto 100 images per month with AI
Access to premium community
Create your own custom use-case
Dedicated account manager
Priority email & chat support
What to subscribe?
If you have limited content generation needs, the Free Plan may be sufficient, providing you with a decent set of features.
However, if you require more extensive content generation capabilities, the Saver Plan offers a higher character limit and additional image generation options at an affordable price.
On the other hand, if you require unlimited content generation, access to premium features, and dedicated support, the Unlimited Plan provides the most comprehensive package.
It all boils down in considering your specific needs, usage requirements, and budget. Take your time to think.
Conclusion
In conclusion, Rytr is an exceptional AI-powered writing tool that excels in various aspects of writing, a solution for content generation, especially for marketing and business purposes. With its all-in-one capabilities, Rytr offers a comprehensive platform to streamline your writing tasks.
By harnessing the power of AI, Rytr saves you valuable time and resources in crafting compelling and conversion-focused content. Whether you need blog articles, marketing copy, or any other written materials, Rytr acts as a reliable writing assistant, generating high-quality content in seconds and at a fraction of the cost. Say goodbye to tedious writing processes and hello to efficient and impactful content creation with Rytr!
What is the Best AI Writing Tool?
Now, its a wrap-up! A wild ride discovering the 10 AI writing tools.
Your next question would be: What is the best AI Writing Tool?
It's your choice to make.
Which of these 10 remarkable tools will be your ally on the path to marketing success?
These tools hold the potential to transform your journey. Now armed with this knowledge, it's time to take the leap and embrace the power of AI in your writing endeavors.
Get ready to unleash your creativity, captivate your audience, and triumph in the world of marketing like never before. The stage is set, the tools are at your fingertips—go forth and conquer!
Related articles: